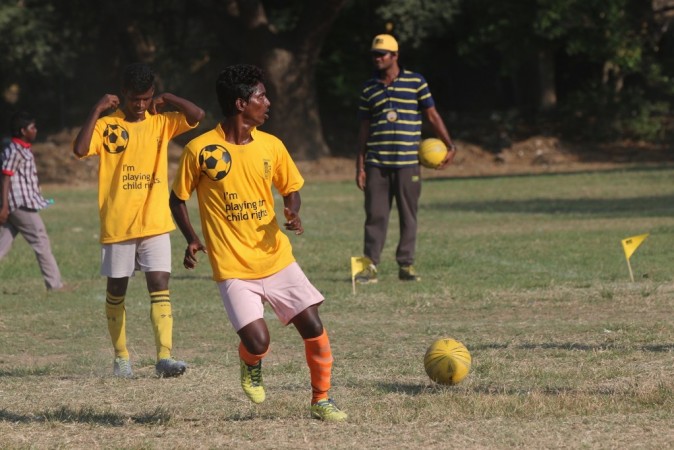 Child Rights and You (CRY) India is bringing their successful football tournament from Chennai to Bangalore for the first time this year. The finest football talents from Vyasarpadi, one of the largest slums in Chennai, will take on corporate teams from Bangalore in a football match at the Holy Ghost Church Grounds in Bengaluru on Saturday.
The team of children, known as SCSTEDS (Slum Children Sports Talent Education Development Society), are represented by CRY India. A total 18 teams will participate in the one-off football tournament.
Sports is hailed as a medium to bring progressive change in the lives of children by the SCSTEDS. The unique initiative has seen the little stars from Vyasarpadi reach high levels and the exposure has also helped them play football in district, state, national and even international tournaments.
"The tournament was conceptualised as a platform for the SCSTEDS players to draw inspiration from the lives and achievements of corporate employees. This we believe would act as a catalyst for them to study further, rather than opting out of the school and plunging into an uncertain future," said Suma Ravi, Regional Director, CRY India (South).
"The SCSTEDS boys showed immense courage and determination during Chennai floods by reaching out to people who were stranded," she added.
CRY India organised the first edition of Soccer for Child Rights at Chennai in 2014 as a part of its national campaign. The tournament has then seen massive popularity. With its foray into Bengaluru, the football tournament is expected to be making a bigger name in the years to come.
Schedule of events
Date: July 16
Time: 7:30 a.m. IST to 6:30 p.m. IST
Celebrity match: 4:15 p.m. IST to 4:30 p.m. IST
Venue: Holy Ghost Church Grounds, Bengaluru