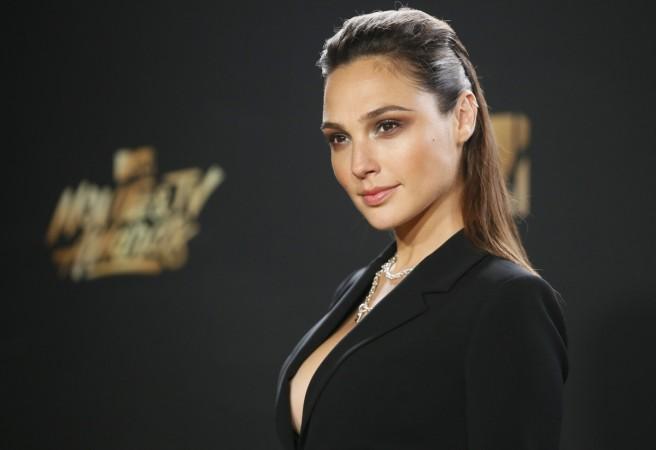 All hail Wonder Woman Gal Gadot!
The Diana actress took the Saturday night television by storm when she featured on Saturday Night Live this weekend. The DCEU actress had many acts up her sleeve but there was one that took Twitter by storm.
Dressed as an Amazonian for a skit, Gadot was seen kissing SNL co-star Kate McKinnon resulting in some jaw-dropping moments at homes. The iconic moment from the episode soon became a gif online and fans couldn't get enough of the steamy act.
Also Read: Bride of Frankenstein: THIS 'Wonder'ful actress to replace Angelina Jolie in reboot?
For those who haven't watched it, the skit recreated and spoofed the famous scene from the summer blockbuster Wonder Woman. Recreating the rowboat moment from the movie featuring Chris Pine arrival to Themyscira, McKinnon reaches the island in search of love.
Accompanied by Aidy Bryant, it turns out that McKinnon is a lesbian looking for a partner. While the women of the island were not on the same page as the two visitors, Gadot is willing to experiment and plants a long kiss on McKinnon. "I felt nothing," Gadot said after the long kiss. McKinnon and Bryant set sail to find another islands in search of love.
The stunning moment quickly surfaced online and fans are going crazy. "I could watch this over and over again. Kate McKinnon got to lock lips with Gal Gadot," said an online fan, whereas another expressed how much they loved the moment using a gif. A few even confessed that they knew the kiss was coming.
I will now have that GIF on loop for eternity.

— CataMurphy's Law (@BadLuckBuffy) October 8, 2017
Gal Gadot really went for that kiss with Kate. Well... Lucky her.

— wansitizulaikha (@wansitizulaikha) October 8, 2017
Overall, Gadot gave some memorable performances. She was on a date with OJ Simpson and took a massive dig at Kendall Jenner by impersonating her in two skits. Hilariously forgetting which Jenner sister she is, the actress's Kendall shot a promo for Kendall's World which fans loved.
Impersonating the model's mannerism and style, fans felt she played a better Jenner than Kendall herself. "Gal Gadot as Kendall Jenner is something I never knew I needed," a Twitter user wrote, "I would actually watch Kendall's World if it starred Gal Gadot as Kendall Jenner," added another. "I wanna watch Kendall's World starring Gal Gadot as Kendall Jenner. What a hoot!" wrote a viewer, safe to say on the user is saying this on behalf of everyone watching.
gal gadot was better than kendall jenner herself. yup.

— ?مايا (@pamelaivys) October 8, 2017
Gal Gadot playing Kendall Jenner on #SNL is one of the best things this year ?

— Sara ?? (@writtenbysara) October 8, 2017
Gal Gadot impersonating Kendall Jenner was wonderfully entertaining. That's how I feel about the garbage Kardashians and Jenners. #SorryNotSorry #SNL

— Essy (@starlight131618) October 8, 2017