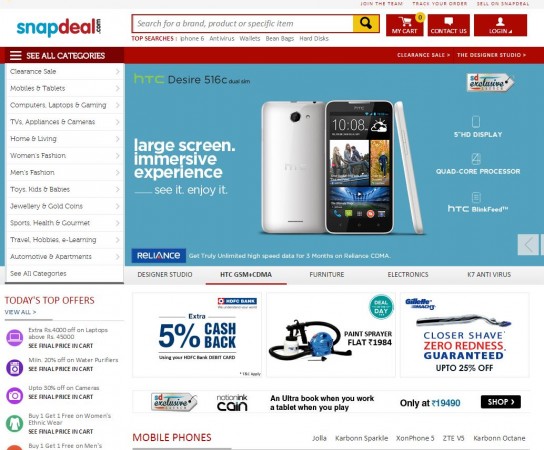 Japanese telecom and media group SoftBank Corp is reportedly buying a major stake in Snapdeal. This deal -- worth $627 million -- will make the Indian e-commerce retailers market more interesting than ever.
The huge consumer market of India has influenced SoftBank to be aggressive with this expansion. The Japanese telecom and media major will also invest $120 million in an Indian logistics company in a separate deal.
SoftBank had also bought No. 3 US mobile carrier Sprint Corp for $21.6 billion last year.
According to Reuters, Softbank said they will become the biggest investor in India based e-commerce giant Snapdeal, though they didn't elaborate on how big the stake in India's third biggest online marketplace will be.
This investment in Snapdeal is the second largest investment in India's e-commerce sector after Flipkart raised $1billion this July. Snapdeal has 25 million registered users and more than 50,000 business sellers, according to a statement by SoftBank.
The Snapdeal investment was publicised alongside SoftBank Internet and Media Inc's (SIMI) lead in a $210 million investment with existing investors in Indian transportation aggregator ANI Technologies Pvt. Ltd. SoftBank didn't specify how much it was investing in ANI, which operates a mobile application for cab booking.
Both deals were finalised by newly appointed SoftBank Vice chairman and SIMI chief executive Nikesh Arora, reflecting the company's recent aggressive overseas expansion plans.
"India has the third-largest internet user base in the world, but a relatively small online market currently. This situation means India has, with better, faster and cheaper Internet access, a big growth potential," Arora, a former Google executive, said in a statement.
Softbank has mentioned that Nikesh Arrora will be joining both Snapdeal and ANI's board as part of the investment.
In one of its most high-profile investments since buying Sprint, SoftBank said earlier this month it was taking a minority stake in Hollywood movie studio Legendary Entertainment for $250 million.