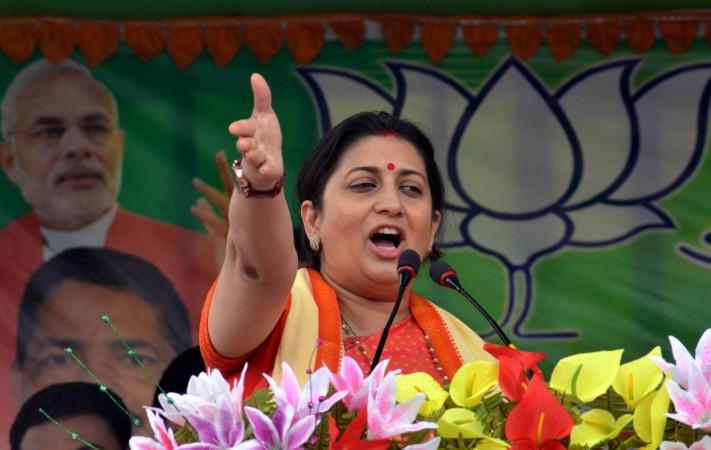 Prime Minister Narendra Modi's cabinet witnessed a rejig on Monday, May 14, which resulted in Smriti Irani losing the Information and Broadcasting Ministry to Rajyavardhan Singh Rathore. Irani will now be solely in charge of the textiles ministry.
The rejig was informed earlier as Irani had canceled her trip to Cannes, where she was set to lead an eight-member panel to the renowned cinema confab.
Irani's tenure as the union minister of Information and Broadcasting was full of controversies and gaffes. She has often been at the receiving end for her policies and statements, much like her stint as the minister of Human Resource Development.
National Film Awards row
The most recent instance of Irani making news was during the National Film Awards row. She faced a backlash after President Ram Nath Kovind awarded the honor to only 11 of 125 recipients this year and the I&B ministry said that the Rashtrapati Bhawan had changed the plans at the last minute. However, in a major embarrassment to the ministry, the Rashtrapati Bhawan said that it had made no such changes and that the claim wasn't true.
Regulation on fake news and digital media
Before that, the former HRD minister courted controversy for an order on "fake news." The order had said that journalists who publicize any kind of fake news would lose their accreditation the moment a complaint was made.
While the order was revoked after the PMO intervened in the matter, the ministry went a step further and said that a set to regulations would be rolled out for the digital media raising concerns of disruption in press freedom.
Prasar Bharati paying DD AIR employee salaries
The I&B ministry made news after it was revealed that it had not paid the salaries of AIR and DD employees and that Prasar Bharati had to step in for the same. While it was earlier stated that the I&B ministry and Prasar Bharati had a tiff over the payment of the International Film Festival (IFFI), Irani clarified that the salaries had not been released due to delay in paperwork, and not "as a retaliation to Prasar Bharati not obeying certain dictates of the ministry."
She also had issues with Prasar Bharati after she suggested the names of Siddharth Zarabi and Abhijit Majumder as editors of the country's public service broadcaster. However, Prasar Bharati turned down the appointment over "unjustifiable compensation" suggested by the ministry.
TV channels and timing of advertisements
Irani was criticized by many for her regulation on how ads promoting condoms must not be aired during prime time as they would have ill-effects on children. She had asked channels not to air these ads between 6 pm and 10 pm, saying that they were "indecent, especially for children, and can create unhealthy practices among them."
"In view of the above, all TV channels are hereby advised not to telecast the advertisements of condoms which are for a particular age group and could be indecent/inappropriate for viewing by children. Indecent, vulgar, suggestive, repulsive or offensive themes or treatment shall be avoided in all advertisements," she wrote.
Irani lashes out at PTI
The former I&B minister had lashed out at the Press Trust of India for releasing photographs that showed men wearing masks of Narendra Modi and Nitish Kumar on Friendship Day.
"@PTI_News is this how elected heads will be projected? Is this your official stand?"
Though PTI did retracted the images from its site, the agency continued distributing the images to other media houses.