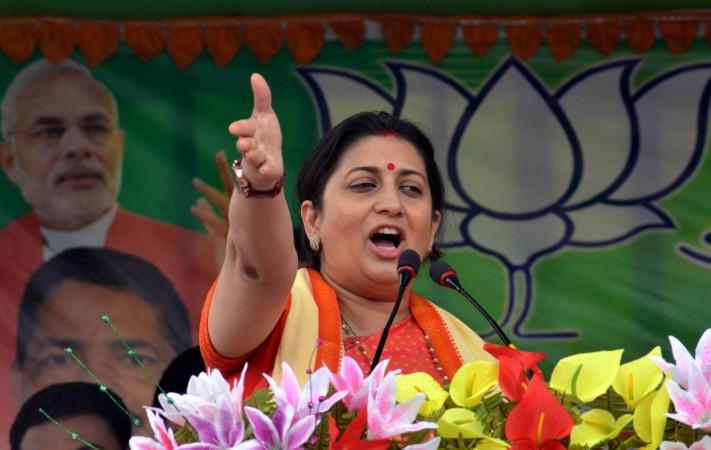 Information and Broadcasting Minister Smriti Irani took to Twitter to take a swipe at Rahul Gandhi through a series of tweets after the Congress deleted its app Monday, March 26.
The Union minister slammed the Congress president for deleting the official Android app of the Congress from Google Play Store and asked why his party "sends data to Singapore which can be accessed by any Tom, Dick, and Analytica."
.@RahulGandhi ji, even 'Chhota Bheem' knows that commonly asked permission on Apps don't tantamount to snooping.

— Smriti Z Irani (@smritiirani) March 26, 2018
The blame game has its roots in Gandhi taking a dig at Prime Minister Narendra Modi, accusing him of spying on user data through the NaMo app and leaking that information to American firms.
Rahul Gandhi tweeted Sunday, March 25: "Hi! My name is Narendra Modi. I am India's Prime Minister. When you sign up for my official App, I give all your data to my friends in American companies."
Modi's NaMo App secretly records audio, video, contacts of your friends & family and even tracks your location via GPS.

He's the Big Boss who likes to spy on Indians.

Now he wants data on our children. 13 lakh NCC cadets are being forced to download the APP.#DeleteNaMoApp

— Rahul Gandhi (@RahulGandhi) March 26, 2018
Modi misusing PM position to build personal database with data on millions of Indians via the NaMo App promoted by Govt.

If as PM he wants to use tech to communicate with India, no problem. But use the official PMO APP for it.

This data belongs to India, not Modi.

— Rahul Gandhi (@RahulGandhi) March 26, 2018
The BJP's IT cell in-charge Amit Malviya hit back at the Congress president and mocked him over a similar tweet that read: "Hi! My name is Rahul Gandhi. I am the president of India's oldest political party. When you sign up for our official app, I give all your data to my friends in Singapore."
The BJP leader also alleged that the Congres had links with disgraced data firm Cambridge Analytica.
Full marks to @INCIndia for stating upfront that they'll give your data to **practically anyone** - undisclosed vendors, unknown volunteers, even 'groups with similar causes'. In theft of all forms, Congress has never been discreet! pic.twitter.com/FCSIv6nPMn

— Amit Malviya (@malviyamit) March 26, 2018
When Congress says they will share your data with like-minded groups, the implications are grave. From Maoists, stone pelters, Bharat Ke Tukde Gang, Chinese embassy to globally 'renowned' orgs like Cambridge Analytica, the field is extensive and wide open. pic.twitter.com/E6S8MJwgiy

— Amit Malviya (@malviyamit) March 26, 2018
As the BJP accused the Congress of sharing user data from its party's Android app with Singapore-based firms, the latter deleted its official membership app from Google Play Store.
Divya Spandana, the Congress social media head, however, tweeted: "The URL for membership on the INC app has been defunct for a while now. Our membership is through the INC website. How difficult is that to understand."