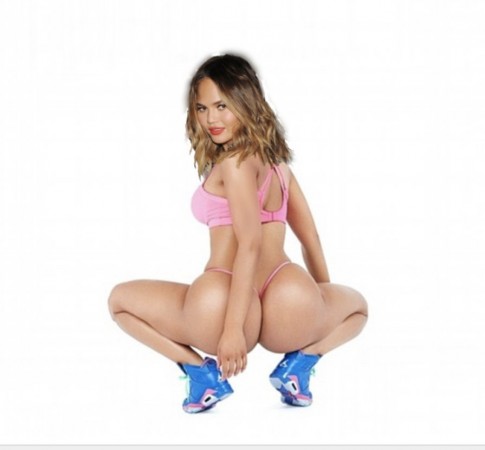 Chrissy Teigen will soon dethrone Ryan Reynolds with her awesome sense of humour!
The 32-year-old model, who is married to musician John Legend and expecting their second child, did not spare a moment to flaunt her humorous side on Twitter.
Also read: Chrissy Teigen responds to nip-slip with hilarious apology video
Teigen, who is currently holidaying with her family, recently photoshopped herself onto Nicki Minaj's body —an image of the rapper from the cover of 2014's "Anaconda".
It all started with musician John Mayer, who took to Twitter on December 22 to complain about people who retouch their photos. The singer is reportedly recovering from appendectomy.
"Nothing provides a clear view into someone's taste, eye or intentions like the way they retouch a photo. This extends to processing as well. I can always tell who just discovered the 'highlights/shadows' slider," the Gravity hitmaker wrote.
And, then Teigen chimed in and responded on the thread with a picture that shows her head is being super-imposed on Minaj's body.
Nothing provides a clearer view into someone's taste, eye or intentions like the way they retouch a photo.

— John Mayer (@JohnMayer) December 22, 2017
Mayer replied, "I'm dying. New hi score," as the model revealed that she'd had the pic in her archives since September 2015.
But the Sport Illustrated beauty was not aware of Mayer's flirtatious conversation with the rap queen earlier this year as one user pointed out that and wrote: "Wha[t] are you playing at chrissy. You know he loves Nick[i]."
"I did not know this. now this is weird," Teigen proclaimed.
Over a year ago John wrote on Twitter: "I spend an inordinate amount of time per day wondering if Nicki Minaj would like me or not."
And, blown away by his tweet, the Feeling Myself rapper replied, "Would my body be your wonderland?" while referring referencing his hit song "Your Body is a Wonderland."
An overwhelmed Mayer tweeted back, "Please hold, losing my s—t. This isn't my reply yet."