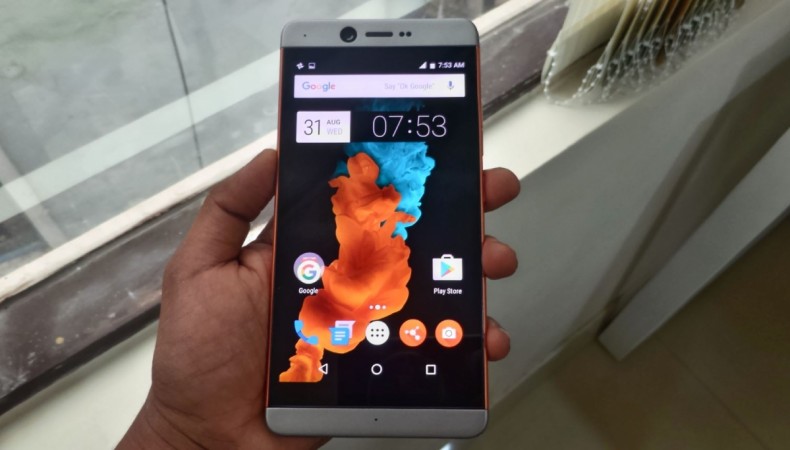 Smartron, unlike any other India-based smartphone maker, has taken a brave stance by launching an upper mid-range t.phone, also known as the Tendulkar phone (Sachin Tendulkar is the brand ambassador). It's price-tag is little shy of Rs. 25,000, and almost Rs. 10,000 costlier than any other domestic-branded mobile phones sold in the country.
Smartron's t.phone, on paper, has got some pretty good hardware inside and outside to match its price-tag. But, does it perform the way the company claims it can? We got all that covered in our review below.
Design and build quality (4/5):
The T.phone comes with dual-colour combination-- Classic Grey, Metallic Pink, Steel Blue and Sunrise Orange variants. It will certainly grab attention from the onlookers.
For the review, we received a visually appealing Sunrise Orange model with the top and the bottom portion sprayed with silver grey shades.
It sports a candy-bar design language with well crafted curved corners and measures 158.20mm in length, 78.20mm wide and 6.98mm in thickness.
When kept in hand, we can feel the high grade metal used on the phone's chassis and the back cover. It is unarguably one of the best looking phones in the upper mid-range category.
Display (4/5):
Smartron t.phone sports a 5.5-inch full HD(1920x1080p) AMOLED screen with Apical assertive display technology. We took it out test the phone screen's legibility under bright sunshine conditions like trying to read messages, browsing, gaming and other stuffs, and it didn't disappoint at all.
Performance (3.5/5):
Smartron t.phone houses one generation old Qualcomm Snapdragon 810 octa-octa processor with 4GB LPDDR 4 series RAM and sumptuous 64GB internal storage (expandable).
Considering the Snapdragon 810's notoriety for getting over heated, we first tested the phone by playing graphics intense game Asphalt 8. Unlike, Sony's Xperia Z4 and HTC One (M9), the t.phone surprisingly did not exhibit extreme overheating, but we were disappointed with the lag during the gaming session and sometimes while doing normal operations on the phone.
One positive aspect of t.phone is its clean interface, which we urge other smartphone-makers to try to implement this. Smartron's new phone runs on Android Marshmallow, which is more pure than Moto series phones, as it has almost bloat-ware besides Google applications and a third party app including Hungama, DTS fi, TronX, which acts as e-store platform for users to buy exclusive Smartron products on the go.
Battery life (4/5):
Smartron t.phone, which houses a standard 3,000mAh cell, can easily last a whole if it used moderately. It has to be noted that, during the testing, we moderately used the phone for video calling, WhatsApp messaging, audio calling and internet browsing all through the day.
If you are heavy user and play games a lot, we suggest you to carry a power bank in your back pack.
It also comes with Type-C USB-based fast charging port. During our testing, it took little over an hour to get the device charged from 0 to 100 percent.
Camera (4.5/5):
Smartrone t.phone houses a standard 13-megapixel sensor, a dual-LED flash, and phase-detection autofocus, 4K resolution video recording capability.
During the testing, it impressed us, to an extent. It took stunning pictures during the day light conditions, but photo's quality went a notch down in the night.
[Note: During the testing period, our t.phone review unit received a camera app update with optimization feature, which we believe increased the device camera's capabilities]
On the front, it features 4-megapixel sensor with enlarged lens and was able to capture fine quality selfies.
Verdict (3.9/5):
Smartron's t.phone is a really good phone for its price (Rs. 24,999). That said, it faces an uphill task of impressing consumers, as popular Chinese brands—Lenovo Z2 Plus, Xiaomi Mi 5 and LeEco Le Max 2, which fall in the same price range, offer more features.
Pros:
Good build quality
Excellent camera (especially front snapper)
Decent battery
Cons:
Lacks fingerprint sensor
One generation old Snapdragon 810 CPU
It could have been priced below Rs. 20,000