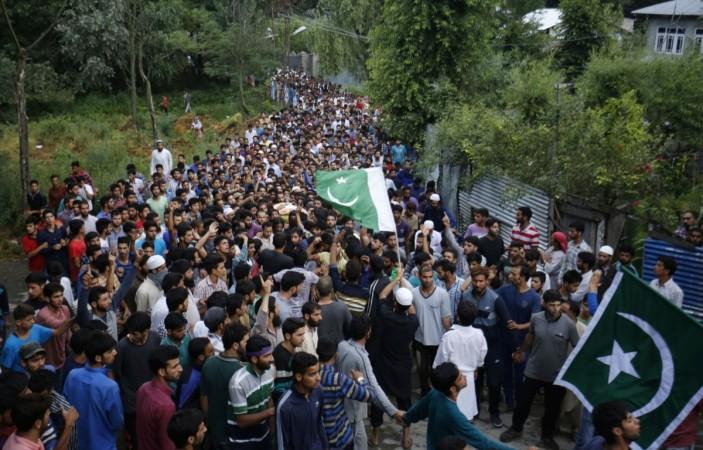 The slogans praising Hizbul Mujahideen's top militant commander, Burhan Wani reverberated during various Muharram processions in Kashmir valley and his posters also made appearances at these gatherings.
In a Shia bastion of downtown Srinagar, Hasanabad, a cleric praised Burhan Wani and likened him to the respected Imams of Islam who fought against its enemies. This was followed by the slogans.
Watch Video here:
The district administration has imposed restrictions in the summer capital of J&K, Srinagar. It has also disallowed Muharram processions today to thwart any law and order problem.
The areas under the jurisdiction of Shaheed Gunj, Batamaloo, Sher Gari, Karan Nagar, Kothibagh, Maisuma, Kral Khud, R M Bagh and Nehru Park Police Stations of Srinagar have been put under preventive restrictions, a police source said.
The educational institutions in Srinagar have also been asked to remain shut whereas the examinations in various schools, colleges and Kashmir University have been postponed.
On Tuesday, posters of Burhan Wani appeared at various places in downtown Srinagar city and the slogans for azadi reverberated across the volatile areas of Srinagar after which the CRPF was deployed.
The traffic police department has blocked the major roads for the traffic movement and issued an advisory for alternate routes throughout the city.
Chairman Hurriyat Conference (M), Mirwaiz Umar Farooq while condemning the restrictions on Muharram processions tweeted, "Srinagar held hostage by rulers to disallow Muharram procession! Curbs and restrictions on peoples movement everywhere. Roads and alleys leading to hospitals especially SMHS also blocked ..sick being made to suffer! Harassment of people keeps getting worse by the day."