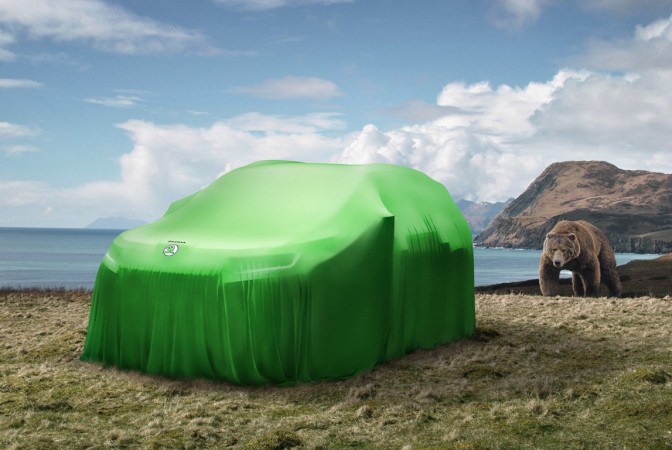 Czech automobile-manufacturer Skoda Auto has confirmed the name of its upcoming seven seat flagship SUV as Kodiaq. The SUV was previously rumoured to be named Skoda Snowman and Skoda Polar. The name of the SUV has been derived from the Kodiak bear that lives on the island of the southern coast of Alaska. Skoda also confirmed that the SUV will debut in the second half of this year, while the launch has been scheduled in early 2017.
The Kodiaq will be based on the VisionS design study concept Skoda unveiled at the 86th Geneva Motor Show in March. Based on the Volkswagen Group's Modular Transverse Matrix (MQB) platform, the VisionS incorporates Skoda's new design language for upcoming SUVs.
The Kodiaq will feature a design influenced by Czech cubism and the tradition of Bohemian crystal art. The VisionS study model features precise and crisp body lines and a face similar to the current generation cars of Skoda. The VisionS also features masculine design, which is accentuated by the Island-Green colour. The production-model Kodiaq is also expected to feature the same styling, without major changes. Skoda claims the new SUV, at 4,700mm in length, can comfortably seat seven and performs excellently both on and off the beaten track.
The VisionS concept was showcased with a hybrid engine and the Kodiaq is also expected to come with the same powertrain. The internal combustion engine is a 1.4-litre TSI with 154bhp and 250Nm of torque. This works alongside an electronic motor that provides 53bhp of continuous power and 220Nm peak torque. In addition to this, the engine line-up from the Octavia and Superb sedans that include the 2.0-litre TDI and 1.8-litre TSI engines are expected to be offered with a six-speed manual or a seven-speed DSG transmission.