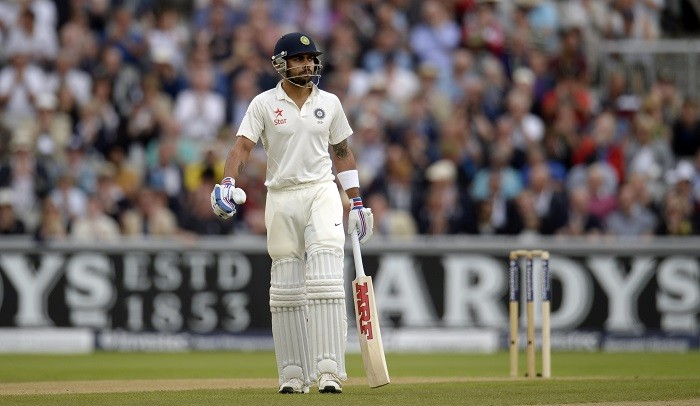 Following one-off Test to Bangladesh in June, India's tour of Sri Lanka will be Virat Kohli's first full-fledged tour as captain of the Indian team. India will play three Test matches starting 12 August and skipper Kohli has to lead the team from the front with the bat as well.
India has just played one Test match so far in the year, so this Sri Lanka Test series is going to be an important one for team India as it is a relatively young squad for the tour of Sri Lanka.
"It's basically my first full assignment as Test captain. In Bangladesh it was a one-odd Test match it wasn't a full-fledged series. So it will be a new challenge for me and the whole team because we have such a young squad and so many new players looking to build their careers," Kohli told bcci.tv.
India may have been a strong force in ODI cricket, but their performance in the longer format of the game is not mighty impressive. They have lost their last two Test series against England and Australia, but the current bunch of boys under the leadership of Virat Kohli are eager to perform better in Test format also.
Virat Kohli is confident for the upcoming tour of Sri Lanka if they prepare well.
"It is an exciting challenge to start together as a new unit. It is exciting for me and as a team. Everyone is very very happy and putting in all the effort required to do well in Test cricket. I am certain if we prepare well and have the right kind of vision, we will do really well in Sri Lanka. I am confident about the whole team and also hope that I am able to do the job given by BCCI," added Kohli.
In order to get on right track ahead of the crucial tour of Sri Lanka, Virat Kohli decided to play for India A against Australia A, but the Delhi lad only scored 16 and 45 runs, which also saw the team lose the Test.
Kohli does not feel that there is any need for him to curtail his aggressive approach in the tour of Sri Lanka as he has always played with an objective of winning the game for India.
"As a batsman I have always been responsible with the way I play my cricket and it comes from wanting to win the game for the team everytime I play. So I don't think I need to change too much in that aspect," said Kohli.
"It all boils down to how you play your cricket eventually and that's the way I have always played my cricket, be it on the field, be it the way I bat, I always give my 100 per cent. Putting in that extra effort in batting I don't think is required because I have always played in a responsible way for the team. And I will continue to that till the time I play for my country."