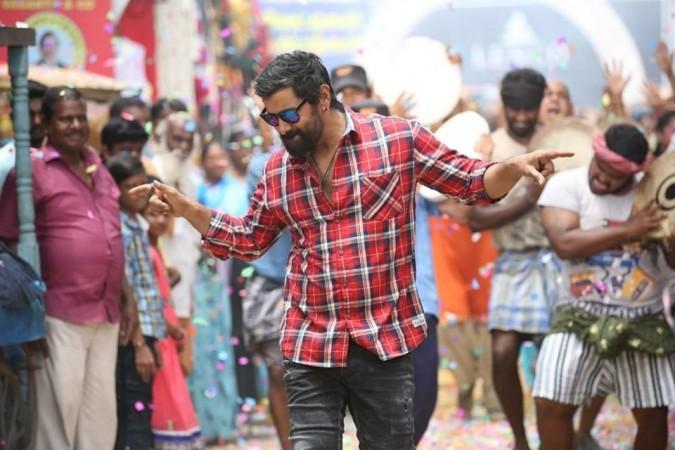 Every time he takes up a project, Vikram ensures his roles are challenging and that he surprises his fans with special avatars. The efforts he puts in for each flick may not often be rewarding in terms of commercial success, but the actor walks away with a sense of personal satisfaction.
Top 10 Highest Grossing Movie of 2017 in Tamil | Most Anticipated Kollywood Films of 2018
Now, Vikram is back with Sketch — another commercial potboiler, but with a difference. According to the actor, it is not a mass-masala movie but a film with the right mix of commercial ingredients. It has a sensitive and raw subject and is set in North Chennai with lots of mysteries.
Sketch movie stills | Sketch movie poster
Chiyaan has collaborated with Vijay Chandar of Vaalu fame, and paired up with Tamannaah Bhatia, who has played a Tamil Brahmin girl named Amuthavalli. It also has Soori, Radharavi, Vela Ramamoorthy, Ravi Kishan, RK Suresh, Sriman and others in the cast.
Thaanaa Serndha Koottam Review | Gulaebaghavali movie review
The film has S Thaman's music. Songs like Kanave Kanave, Cheeni Chillaallee and Vaanam Thoorammalae have struck a chord with the audience.
M Sukumar and Ruben are the other important members of the technical team: They have handled the cinematography and editing departments, respectively.
Given the teaser, Sketch appears to be an action-packed film with an interesting story.
Reviews:
The movie is getting mixed reviews. People have said that it is a decent entertainer in which Vikram brings all his energy to the fore. Here, we bring to you the audience's response to the flick:
Sathish Kumar M:
#Sketch Kollywood's commercial North Chennai based revenge action movie with #Chiyaan #Vikram in it. Preinterval Scene & forced message oriented climax are the positives along with @MusicThaman BGM
Sreedhar Pillai:
#Sketch A film which works to a large extent on #Vikram's charisma and the ease which he does mass roles in style. The surprise twist in the climax with a nice message helps it to a certain extent. @MusicThaman peppy scores.
Martin N Joseph:
#Sketch - After a slow and boring start picks up well near to the interval. Terrific screen presence and complete one man show from #Chiyaan !! Usual gangster stuffs but entertaining so far.
Giantsfan:
#Sketch watchable entertainer , works in 2nd half with a good climatic twist.
Rajasekar:
Review: #Sketch is an average commercial entertainer filled with routine 'masala' moments. The climax & intermission portions are the two highlights. Of course, we have a sincere 'Chiyaan Vikram' and terrific score by @MusicThaman Rating: 2.5/5
Christopher Kanagaraj:
#Sketch - Chiyaan d man carries the movie single handedly, watta screen presence, swag & Charisma. Another positive is Thaman's terrific BGM. Film has nothing new, follows routine commercial template - song/fight/comedy. Climax superb,Chiyaan makes this avg film a watchable one.
Manobala Vijayabalan
#TSK #ThaanaaSerndhaKoottam: Short & sweet role for @RJ_Balaji. Opening scene, Interview scenes - multiple answers, Jewellery shop scene are the highlight. Learning - Talk less & work more
@VigneshShivN
#Sketch: From the first scene till last scene #ChiyaanVikram's performance was top notch. Entire theater erupted during ambulance mission - powerful BGM by @musicThaman. Scenes with @tamannaahspeaks came out well. @vijayfilmaker @chiyaanCVF
#TSK #ThaanaaSerndhaKoottam: @KeerthyOfficial in traditional look impressed everyone. Reporter scene, Temple scene, Bride matching scene, etc was nice. Made a good pair with @Suriya_offl.
@VigneshShivN
#TSK #ThaanaaSerndhaKoottam: Liked how @VigneshShivN concentrated on minute things - Nachinarku Iniyan, Proverbs, 80s sets, etc. Audience enjoyed Raid scenes, CBI Interview scene, climax, etc.@KeerthyOfficial @Suriya_offl
#Sketch 3.25/5 - Good. #ChiyaanVikram has ruled it all the way. Cool performance from @tamannaahspeaks. Nice Climax & message by @vijayfilmaker. @musicThaman's BGM is a plus.
#Sketch 1st half: - Gang wars and vehicle Seizing. - #ChiyanVikram's mass presence moves it. - @tamannaahspeaks looks good. - @musicThaman BGM stands out. - Interval block is nice.
Prasath:
#sketch review by #kollywoodcinemas
#Sketch #KCReview 3.25/5
#ChiyaanVikram big strength of the movie -Action Sequence he is superb
Romancing with #Tamannaah is good
He is superb actor proved once again in this film film @chiyaanCVF Rocked it.
Ram:
#Sketch #KCReview 3.25/5
#ChiyaanVikram big strength of the movie
- Each and Every sketch was awesome.
- Action Sequence he is superb
- Romancing with #Tamannaah is good
- He is superb actor proved once again in this film film
#Sketch #KCReview 3.25/5 #ChiyaanVikram big strength of the movie - Each and Every sketch was awesome. - Action Sequence he is superb - Romancing with #Tamannaah is good - He is superb actor proved once again in this film film @chiyaanCVF Rocked it.
Suresh kenny:
#Sketch A Good commercial entertainer with terrific climax & Awesome BGM from @MusicThaman . Last but not least our #Chiyaan sir s on that swag & style Just imagine #Sammysquare & #Dhurvanatchathiram Just bring it on baby 2018
#Sketch Good first half lets bring it on a second half #Chiyaan sir all the way so happy to c him such a relaxing role with loads of mass scenes
Aravinth:
#sketch wowwww! Marana massssss movie for #ChiyaanVikram and happy for all the #chiyaanfans #blockbustersketch and really loved the climax twist. Overall a very good mass entertainer. Kudos to #dirvijaychander and @MusicThaman bgm is #therichifying
Kaushik LM:
#Sketch 1st half - Routine mass template set in North Madras. The decent pre-interval sequence stands out. #ChiyaanVikram looks effortlessly stylish, sporting cool costumes and leading the thug life. @MusicThaman has done his job well with the buildup BGMs.
#Sketch 2nd half - Plays around with sentiments, action and romance. Has a decent element of suspense which is opened up in the end. The climax message seems to be added on just as an after thought!
Ramesh Bala:
#Sketch 1st Half: Rides on #ChiyaanVikram 's screen presence and Mass.. North Madras gangster setup..
#Sketch : It's #ChiyaanVikram show all the way.. His swag and Mass lift the movie.. A North Chennai revenge story.. @tamannaahspeaks looks gorgeous and has a decent role.. @MusicThaman BGM and songs r good.. Watch it for #Chiyaan
MH.
#Sketch decent entertainer with strong social message and twist in the climax. mass scenes worked a lot. Chiyaan's performance and BGMs
FridayCinemaa:
#Sketch review: A very gud emotional msg at the end leaves us with the feel of watching a good film.. @vijayfilmaker 's msg is need of an hour. But the way of saying could have been more crisp and interesting.
#Sketch review: An average fair as a whole. A mass murder scene towards the end lifts the film.. #Chiyaanvikram 's One Man show
#Sketch 1st half: VijayChandar hasn't gotten into the story yet.. Fully relied on mass elements, the film is filled with Slow motion scenes, mass music and Vikram asusual is the showstealer
Surendhar MK:
Half way through #Sketch. #ChiyaanVikram in full-on commercial mode. Slo-mo shots galore. Picks up steam before the interval with a chase sequence.
Sujith: ‏
#Sketch A template yet interesting commercial entertainer totally owned by #Chiyaan #Vikram. Action blocks, BGM Ends on a high. Good.
#Sketch first half, A commercial entertainer wit #Chiyaan #Vikram's infectious energy makes tis no/less boring. Action blocks n BGM