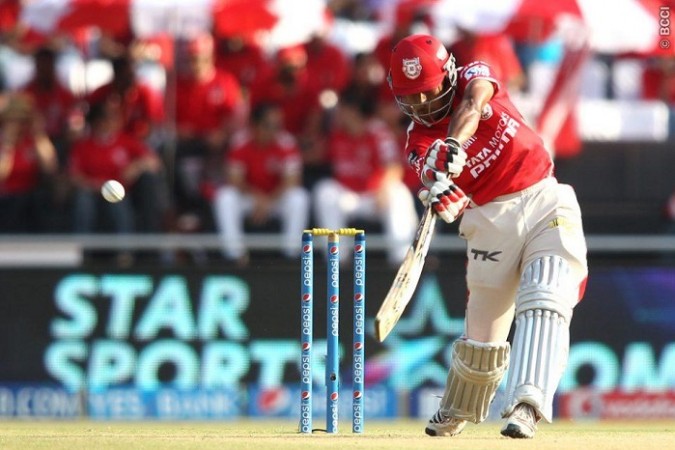 Kings XI just continued to make T20 batting look like a walk in the park, as the Punjab franchise crushed the Sunrisers Hyderabad in IPL 2014, chasing down a mammoth total with considerable ease.
Chasing a score of 206, KXIP took to the SRH bowlers like white on rice and never looked back, easily achieving the target with eight balls to spare.
Wriddhiman Saha and Manan Vohra set the chase up perfectly, before Glenn Maxwell, David Miller and George Bailey saw their team through against a shell-shocked Sunrisers.
"I walked off at the halfway point angry with my bowlers but we have turned it around," a proud Bailey said at the presentation ceremony. "Manan and Saha were outstanding, they played really good cricket shots and that gave the guys down the order confidence.
"The wicket came on nicely all day and we will take even more confidence from this, it's great all the team is contributing.
"At the halfway stage, I was thinking if it was one of those ones where I would be asked if we toss again, if I would change it. It just skids on a little bit, it did feel like it was coming on quite nicely, but it felt like it was coming on nicely all day.
"You get the first one away and you get some confidence I guess. We are not relying overly on Maxwell and Miller, though they have had a fantastic series. Other guys are contributing, which is important."
While the Kings XI are sitting pretty at the top of the IPL 2014 table, SRH still have a lot of work to do to make the playoffs, with four wins out of their remaining four matches probably necessary to finish in the top four.
"I still believe that we have every chance of making it to the playoffs," Sunrisers captain Shikhar Dhawan said. "If we win 3 out of 4 games we will have a chance. I would love to win 4 out of 4."
Dhawan admitted his bowlers had just failed to stop the KXIP juggernaut, unable to control the flow of runs after an early blitz from Saha and Vohra.
"We saw some big hitting from both the sides," he added. "We had plans for their batsmen but we failed to execute them."