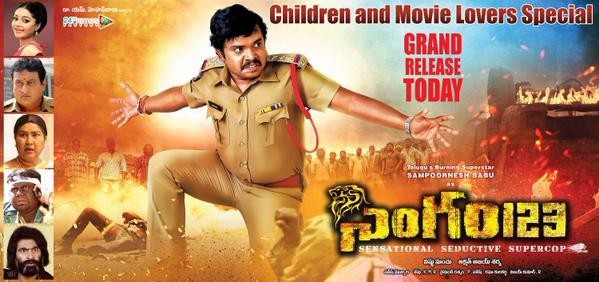 Sampoornesh Babu, who was seen in cameo roles in "Current Theega" and "Bandipotu" after his debut film "Hrudaya Kaleyam", is back with "Singham 123" ('Singam 123'), which has got good reviews from the viewers.
"Singham 123" is a spoof action comedy, which has been directed by Akshat Ajay Sharma and written and produced by Vishnu Manchu. The film is about a goon, Lingham, who poses a big threat to law and order in a village. After many failed attempts by other police officers to nab him, Singham 123 is assigned the task of arresting him. How he does it will form the crux of the story.
Sampoornesh Babu has played a sensational super-cop in "Singham 123" and has delivered good performance. The audiences, who are impressed with his mannerism and dialogue delivery, describe the film as a laugh riot without logic. We bring you some film-goers' verdict on the film shared on Twitter.
Here is live update of "Singham 123" movie review by viewers:
Rahul Reddy N ‏@itsmerahulreddy
#Singham123 #sampu asusual rocked as a cop.A gud spoof movie for movie lovers, first half good.second half awesm,entertainmnt guaranteed.hit
SBS ‏@SbsBoss
#Singham123 fully paisa vasool and your paisa satisfaction movie, @sampoornesh done extremely energetic role..Credit goes 2 @iVishnuManchu
Pandu ツ ‏@ImPanduu
#Singham123 halftime. One man show #Sampoo Rocks @sampoornesh
మెగాతనము ‏@ursmurty
#singham123 hilarious fun.. Sampoo sampesadu.. Gud hit
AUTO JAANI ‏@raghu_adapa
1St half motham spoofs ,ani cinemala dlgs tho saaadindi #Singam123