RATING: 2
MOVIE: Simran
CAST: Kangana Ranaut
DIRECTOR: Hansal Mehta
GENRE: Comedy
Director Hansal Mehta seems to have thought that he will deliver a blockbuster like Queen by making Simran with Kangana Ranaut. The movie is inspired by a true story of a Gujarati girl, who works as a hotel housekeeper, but later, she becomes a criminal.
Kangana is the lead actress but ends up trying her best to save the movie.
PLOT
Praful Patel (Kangana) is an independent Gujarati girl who sees her dream come true of buying her own house. But things take an ugly turn when she gets addicted to gambling on her trip to Las Vegas. Praful loses all her savings in gambling and also, gets involved with criminals. To repay those criminals, she robs banks, but interestingly she enjoys it and gets addicted to it as well. The media brands her the 'lipstick bandit.' To know why she has been given the title and why the movie's name is Simran, you have to watch the film. The crux of Simran is how Praful manages to come out of the dirt.
PERFORMANCES
Kangana is known for such out of the box roles. While she has done a brilliant job with her performance, she has nothing new to offer in the movie. We have seen such good performances in Queen and Tanu Weds Manu. So, Kangana's performance didn't have any new or fresh element. However, she tries her best to make the audience laugh. Apart from Kangana, the supporting characters of the movie are not that extraordinary. Basically, the movie is all about Kangana.
POSITIVES
The good part of Simran is the lead actress' performance. She has done a brilliant job with her acting skills. Also, the actress looked beautiful in some of her de-glam scenes. Kangana's performance has brought out the bold and beautiful part pretty well.
NEGATIVES
The script of the movie is disappointing. Though it is inspired by a true story, the director could have made it more interesting. Also, the execution is not great and it is slow in the first half. The surprising thing was the reason why the name of the movie is Simran, which has been revealed after the interval. The lead character, Praful Patel, plays a Gujarati girl in the movie and Kangana tries her best to work on the accent. But in a few scenes, the actress seemed to have forgotten to use the accent. Simran movie was a bit out of place in some sections.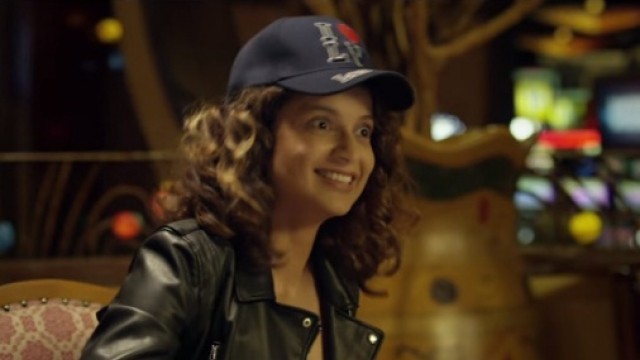 VERDICT
Kangana Ranaut has become the savior of Simran, but it doesn't look like she can also save the film. While the script turned out to be disappointing, Kangana's performance was nothing different from her performances in Tanu Weds Manu Returns.