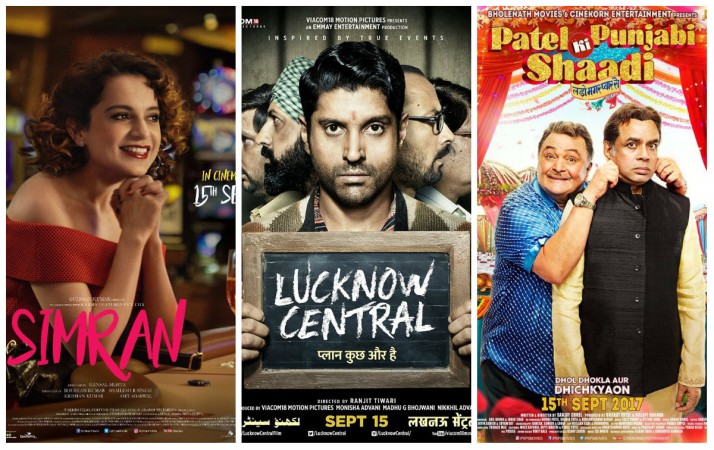 Kangana Ranaut's Simran, Farhan Akhtar's Lucknow Central and Patel Ki Punjabi Shaadi (PKPS) have opened to poor response and are likely to do average business at the box office on the first day.
Simran, Lucknow Central and Patel Ki Punjabi Shaadi are three distinct movies that hit the screens on Friday, September 15. Their promos generated good hype for them, and their makers made sure that they got a fare amount of publicity before release.
Simran is a notch bigger in hype than two other new releases of the week, due to the controversy surrounding Kangana Ranaut's rumoured relationship with Hrithik Roshan. Hence, it was expected to get a bigger opening than the other movies.
All three movies received disastrous response in the morning show across the domestic circout on Friday. Simran and Lucknow Central registered an average of sub-15-percent occupancy in the morning shows.
Patel Ki Punjabi Shaadi — starring Rishi Kapoor, Paresh Rawal, Vir Das, Payal Ghosh and Prem Chopra — witnessed received possibly even poorer footfalls, and its screening in some areas was reportedly cancelled due to lack of viewers.
The collection of Simran and Lucknow Central depends on the urban audiences, who would actually wait for the word of mouth and then step into theatres in the evening shows.
Trade analyst Taran Adarsh tweeted: "A new Friday... But the story remains the same... New film releases open [morning + noon shows] to dull response. [sic]"
As per early trends, Simran and Lucknow Central are likely to collect Rs 3 crore each at the domestic box office on the first day, while Patel Ki Punjabi Shaadi might earn less than Rs 1 crore.