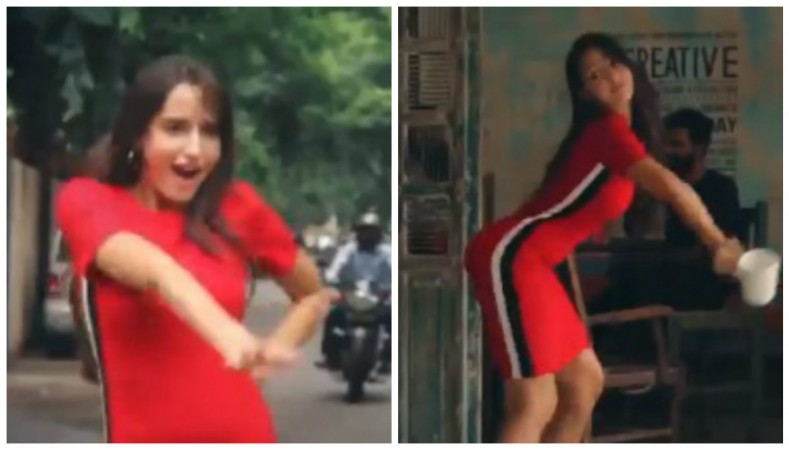 At a time when craze around "Kiki Challenge" is causing a lot of traffic rule violations and accidents, Nora Fatehi has come up with a similar challenge in a bid to promote the song Kamariya Hila De from Stree.
The song and video, Kamariya Hila De, featuring Nora was recently released and instantly became a hit for the quirky lyrics and Nora's sizzling moves. The makers of the film have now come up with an interesting idea to promote the song.
Nora shared some videos on social media with a caption asking people to take up a challenge of dancing on the track anywhere possible. She titled this task as #KamariyaHilaDeChallenge.
"#Kamariya pe Kamariya hilana toh banta hai! Jahaan bhi ho Kamariya hilaao & challenge your friends too! #KamariyaHilaDeChallenge [sic]," she captioned the post.
In the post, she is seen dancing on the song at random places and situations. In one of the videos, Nora is seen dancing on a road while a lot of moving vehicles can be seen.
While it appears to be an interesting strategy to promote the song, won't it cause similar concerns that the Kiki Challenge faced?
The Kiki Challenge requires people to jump out of a slow moving car and dance on Canadian rapper Drake's track titled In My Feeling with the car door open.
This immensely popular challenge has till date caused several accidents in India as well as abroad. Police in various states of India have been issuing warnings against trying this stunt as it may cause serious injuries as well as death.
Now, Nora's latest challenge that appears to be somewhat similar to the Kiki Challenge, may also raise some security concerns for people who would try to pull off the task in risky zones like busy roads. Will Nora's act cause further concerns for police and traffic authorities? Only time will tell.