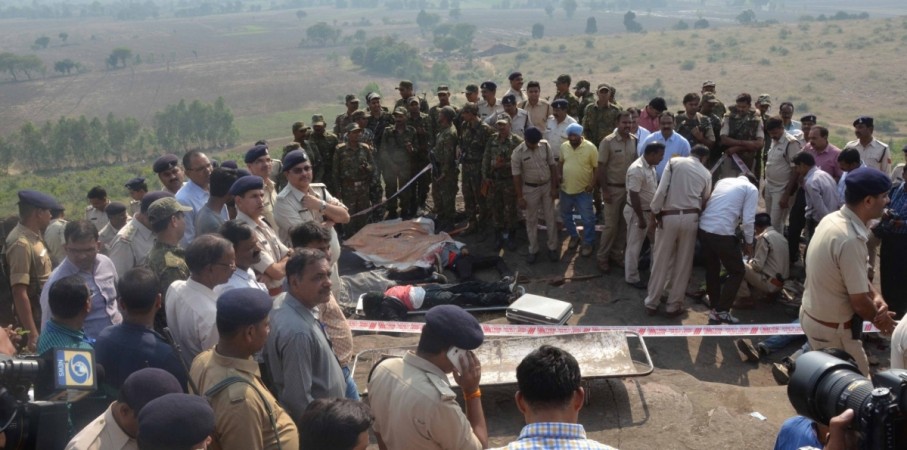 Madhya Pradesh Chief Minister Shivraj Singh Chouhan has condemned opposition parties for raising doubts over the encounter of eight Students Islamic Movement of India (SIMI) men who fled from Bhopal Central Jail on Monday.
"They won't say two words about martyrs. These men were dreaded terrorists. They were killed. We have no idea what terror they would have spread outside. Yet so much effort to defend them," the chief minister told reporters. "I condemn such politics," he added.
Earlier, Congress leader Digvijaya Singh had said, "The judiciary should investigate how the men escaped from jail. Why is it always that the men who escape from jail are always SIMI men?"
Another BJP leader, Kiren Rijiju, said, "We have developed this habit of raising doubts. Facts will come out. I am not dismissing anything but merely on the basis of a clip you can't raise alarm bells like this."
Questions were raised after unverified videos of the encounter were released to media. In the video, the policemen are heard saying, "Zinda Hai, Maaro" - he is alive, shoot him and "Put one in the chest... He will die".
It is being probed whether the eight men had agreed to surrender and were unarmed.
Bhopal Inspector General Yogesh Choudhary claims that the SIMI men fired six rounds at the policemen. He also says that three policemen were injured with sharp weapons.
It is also alleged that four country-made guns were found on the men. "How they got the guns, we have to investigate," Choudhary said.
BJP reacts
Meanwhile, Madhya Pradesh Jail Minister Kusum Mehdele said, "You should praise us for killing the accused even though they escaped. They were stopped from carrying out more dangerous acts." She, however, accepted that there were lapses in security in the jail.
"I accept there are lapses on our part. Some CCTVs in the jail may not be working. How they managed to scale the wall I don't know," she said.
The eight men had killed a guard by slitting his throat and then climbed a 30-feet wall by making ropes out of bedsheets.
"I salute Ramashankar Yadav (the guard who died in the Bhopal jailbreak) for his bravery. Some people are still raising absurd questions and insulting his sacrifice," CM Chouhan said on Tuesday.
Another senior BJP leader Venkaiah Naidu called the doubts raised by the opposition parties as "cheap politics."
"Some people are showing more concern to people who have escaped from jail, who always break law than safety and security of Indians," Naidu said. "People are concerned about SIMI terrorists and the religion they belong to, but why not about the menace they created," he added.
Opposition's reaction
Communist Party of India (Marxist) leader Prakash Karat has said that the matter must be investigated by an independent judiciary and not the NIA.
"The manner in which these people escaped and were traced and shot dead, matter has to be enquired," Karat said.