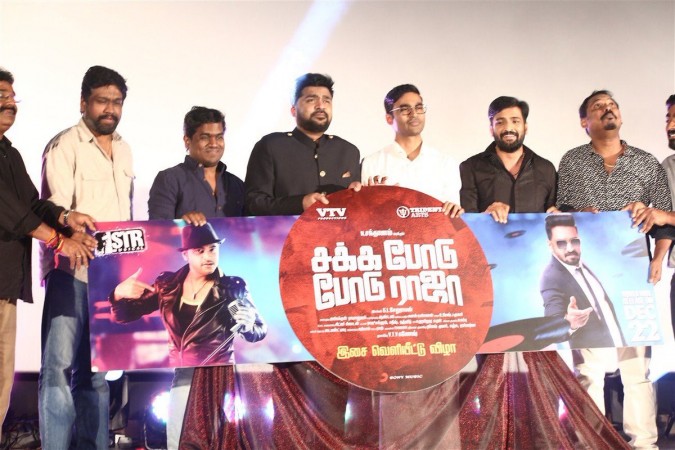 The audio of Santhanam's forthcoming Tamil movie was launched on Wednesday, December 6. As expected, Simbu, the music director of the film, took the stage to speak about the controversy over Tamil movie AAA.
Michael Rayappan, the producer of AAA, had mounted allegation on him of unprofessional behaviour and held him responsible for the loss he incurred due the actor's lack of commitment.
Reacting to the controversy, Simbu said that people are curious to know his side of the story and the actor admits that he too is at fault. "I agree my film AAA did not do well. For fans, we did a jolly film which did not work. It should have been a 1 part film but due to the budget issue, we had to make it a 2 part film," Behindwoods quotes him as saying.
Simbu says that they had issues, but felt that the producer could have spoken to him and there was no need to rake up the issue six months after the film's release.
Recently, Michael Rayappan made allegations about Simbu's unprofessional behaviour during the making of their AAA. He narrated a lengthy story to explain in detail about the alleged issues that he faced from the actor.
Michael Rayappa went on to claim that he suffered massive losses due to Simbu's unprofessionalism. The actor's instant response was that he was not responsible for anyone post a film's release and stated that the producer was yet to clear his pending salary of Rs 3.5 crore.
Following the issue, there were rumours that a red card might be issued by the Tamil Nadu Producers Council against Simbu and he might miss out Mani Ratnam's next film due to this unexpected development. The complete statement of the producer can be read here
"People might prevent me from acting, but they cannot stop me from entertaing the viewers," he said. The actor has also stated in other interview that he is still very much part of Mani Ratnam's flick and the shooting will commence on January 20.