Actor and Secretary of Nadigar Sangam, Vishal Krishna has said that he has spoken to Simbu over the beep song controversy and asked him to apologise for the controversial number to the public.
Vishal Krishna has said that they asked Simbu to apologise irrespective of whether the song was leaked or not leaked as the number has hurt the sentiments of the people. Hence, he asked Simbu to give a public apology. The "Paayum Puli" actor claims that he made this request not as the General Secretary but rather as a friend or brother. The "Avan Ivan" star refused to give his view on the issue as it is in the court.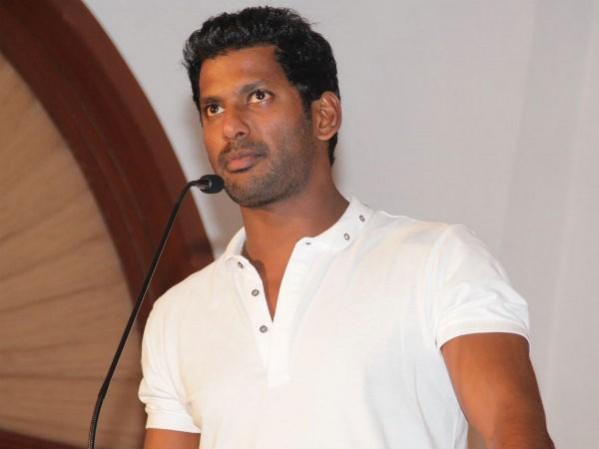 It may be recalled that Simbu and Vishal were on opposite sides in the Nadigar Sangam election. STR had indulged in name calling but the "Pandiya Naadu" had tried to downplay the issue by saying that Silambarasan was like his brother and he was not hurt by his comment.
On the other end, Nasser has said the members were in touch with Simbu over the controversy and conveyed to his family that he should apologise for the beep song if the Nadigar Sangam should stand by his side. But Simbu's family has decided to handle the issue legally.
On the other end, the Nadigar Sangam has reacted to former President Sarath Kumar and his wife Raadhika Sarathkumar's comments over the actors' guild being silent on the issue. The office bearers have now sent a showcause notice for their statements.
However, Simbu, a hardcore fan of Thala Ajith, has been missing for a week now. Since the issue started turning serious, STR remained out of the limelight. The cops have intensified their search for Simbu following the beep song controversy, and have alerted all major airports to prevent him from leaving the country.
The controversy broke after a song allegedly written, crooned and composed by Simbu and Anirudh Ravichander was leaked online. The two-year old track was rumoured to be created for fun and was limited to their close friends. But someone from their group leaked the song and put them in trouble.
While Anirudh Ravichander is out of the country, Simbu has been facing the wrath of women group and public. Defending himself, STR has said that the original number is different from the one that is doing rounds. He alleges that someone has modified the number.