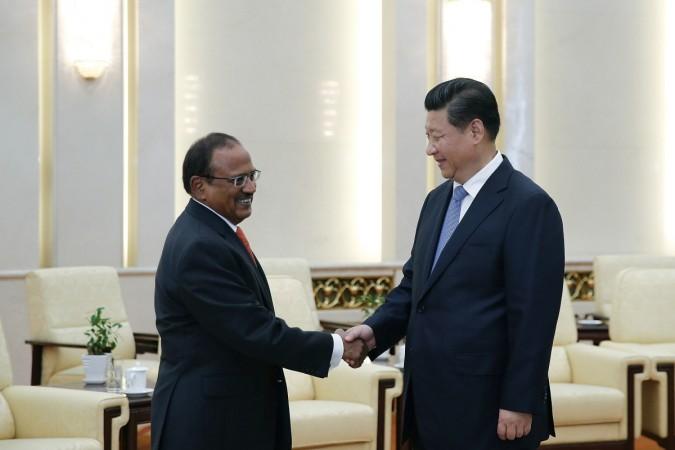 The state-run Chinese tabloid on Tuesday called India's National Security Adviser Ajit Doval the "main schemer" behind the ongoing standoff at Doklam, just two days before his visit to Beijing.
The NSA will be in Beijing on July 27 and 28 for a BRICS national security advisers meeting.
"Doval is believed to be one of the main schemers behind the current border standoff between Chinese and Indian troops", the Party-run hawkish tabloid Global Times said, adding that "the Indian media is pinning high hopes on the trip to settle the ongoing dispute."
The state media also said that Doval will be "disappointed" if he attempts to negotiate on the border dispute with China during the BRICS meet on July 27 and 28. The tabloid piece also stated that the NSA's Beijing visit will not be considered an opportunity to settle the standoff at Doklam as per India's will.
"The BRICS National Security Advisers' meeting is a routine conference held in preparation for the BRICS summit, and is not a platform to address Sino-Indian border skirmishes," the report in the China paper said.
The editorial came as Beijing maintained a tough rhetoric over the standoff and a day after the People's Liberation Army (PLA) released its strongest statement on the dispute, telling India to "not harbour any illusions".
China asks India to withdraw
The editorial also mentioned that India's "withdrawal" from their territory is a "precondition" and will be a basis for dialogue between the two parties. It said that Beijing had no obligation to coordinate with New Delhi when it comes to either withdrawing its troops or suspending its road construction.
Red flagging the warnings from the past, the editorial read that PLA "will take countermeasures if India refuses to pull back voluntarily"
"PLA was capable enough to take actions that neither Indian troops nor the government can afford," it said.
"We don't believe India is willing and determined to have an all-out military showdown with China. If it chooses this path, Beijing will fight to the end to safeguard its territory and resist being deterred or hijacked by any force. New Delhi will have to pay a heavy price," read the article.
The LeT video
Meawhile, the Lashkar-e-Taiba (LeT) leader has released a recent video praising China's stand on the Doklam dispute. The video talks about using the standoff as an opportunity to wage violence in the northeastern region of India.
The co-founder of the organisation, Amir Hamza -- in the video -- is seen initiating his cadre to trigger unrest in the Northeastern states including Darjeeling and Sikkim.
Hamza's video was reportedly shot in Lahore on July, 19.
"We will fight in Sikkim, we will fight in Bhutan, we will fight in Darjeeling, we will fight in Srinagar," Hamza said in that video reports Mail Today. The video has been authenticated by agencies.
Senior officials have said that it was Hamza's first appearance in public after JuD chief Hafiz Saeed was put under house arrest in January.
In that video clip, Hamza not only threatens to trigger violence in several states but also asks jihadis to fulfil Saeed's dream of Ghazwa-e-Hind (war to capture India). "For one Bangladesh, we will take seven states," he says.
Praising China for its stand on the dispute over the 40 km long stretch between Doklam and Bangladeshi border, he sends out an alarm saying that if India sends its army to Bhutan to counter China, then Pakistan will back up Chinese troop and will enter Srinagar.