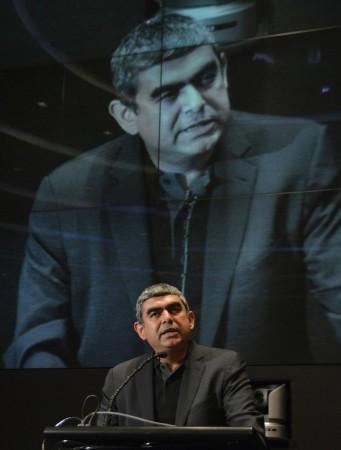 In a bid to renew the demoralised company and curb the high attrition rate, Vishal Sikka -- the newly appointed CEO and MD of Infosys -- has announced a steep hike in the salaries of its top executives. The company, which incurred losses and witnessed exodus of top executives, now looks to soar since Sikka's arrival.
Former SAP executive Vishal Sikka is currently the highest paid CEO of an Indian company. He draws $5.08 million (₹30 crore) with additional stock options worth $2 million as annual compensation.
Many top executives of Infosys have been offered compensations with a three-to-five fold increase. The executives vice-presidents who were earlier offered ₹1 crore to ₹1.2 crore annually, are now offered around $1 million (₹ 6 crore).
Additionally, the company is expected to hike the salary of top 300 executives.
Navnit Singh, chairman and MD of India from Korn-Ferry International opines that the steep hike will prevent the senior executives from switching jobs. "If you look at salaries of some of the global companies, it's comparable to what Infosys has done," TOI quoted Navnit. "It is a golden Handcuff," he added.
Since June, Infosys has raised the compensation and roles of 12 senior vice-presidents and executives. Among them are: Sandeep Dadlani (head of retail), Rajesh Krishnamurthy (head of energy, communications) Mohit Joshi (head of financial services), Sanjay Jalona (head of high-tech & manufacturing) and Manish Tandon(head of life sciences and services department).