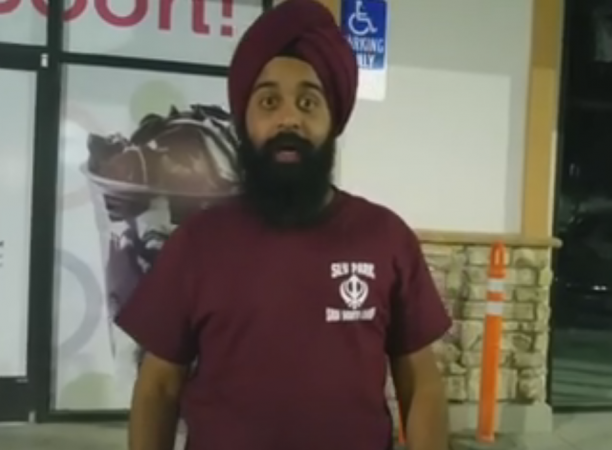 Balmeet Singh, a Sikh living in California, US, was racially abused and threatened by a White Caucasian man earlier this month. Singh was out with his friends at California Avenue for dinner when the incident took place. The police have launched a probe in a possible hate incident.
In a video, Singh recounts the order of the incident that took place. He was talking on the phone outside a restaurant in Bakersfield when a Caucasian man in late 30s-early 40s came to him and said: "You're trying to blow up this country, I should kill you. I'm going to kill you right now."
"And he used a lot of curse words and seemed very angry," Balmeet was quoted as saying.
In the video, he mentions that the police had not gotten back to him with updates regarding the man at least 90 minutes after he reported the crime. He also mentioned that the pizzeria, in which the White man was a customer, had CCTV footage and they were ready to share the footage with the police.
"He yelled and then threw a drink at me, which got all over my turban, beard, clothes and phone," Balmeet said. "Everything I do is here in Kern County, and to have someone tell me that I'm trying to blow up the country and I'm going to cause some harm is shocking," he said.
After threatening him, the man walked to the parking lot and Singh followed to find out the details of the car, which he said was a red pick-up truck. Many people saw what happened and didn't step in to stop the man, Balmeet said.
The Bakersfield police department (BPD) said that it is investigating the matter as a hate incident. "We do have a potential suspect, but the incident remains under investigation. Anyone with information is encouraged to contact police," the BPD said.
After the video was posted online, many people have supported Singh and denounced the racial slurs hurled at him. Singh, in the video, urges people to vote for the right leader and be safe and vigilante.
Sikhs have been targeted in the US before as people confuse them with Muslims. The US currently is a hotbed of communal tensions due to the impending presidential elections.