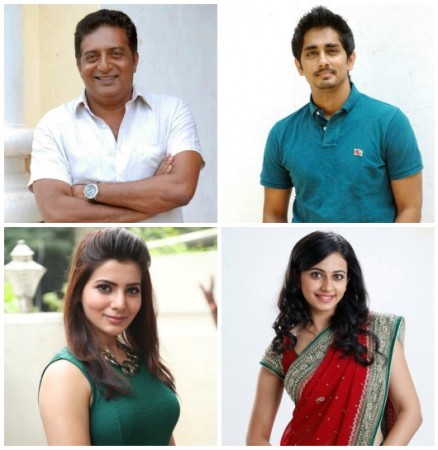 Popular South Indian actors Siddhartha, Samantha, Rakul Preet and Prakash Raj have condemned the Central Government's ban on BBC documentary, "India's Daughter".
"India's Daughter" is a documentary on Dehli gangrape by British filmmaker Leslee Udwin. It was to be telecast in the UK, Canada, Switzerland, Denmark, Sweden and India to mark International Women's Day on Sunday. But the BBC brought it forward to air on Wednesday night following Indian government court order banning its screening.
Some celebrities from took to their Twitter pages to express their disappointment over India's ban on the airing of the documentary "India's Daughter". Here are some stars' Twitter comments.
Siddharth: A film about rape in the US military- yes. About rape in the Catholic Church-yes.A film about rape in India - BAN! #Indiasdaughter #DARKAGES. This culture of banning things is the one thing that should never be in our culture. Everything else we can handle. Stop banning. Now!
Samantha Ruth Prabhu: One who believes in the validity of their own beliefs should and does welcome dissent.At best ,they engage with it. At worst, ignore it. Ideally, they learn from it either way. #indiasdaughter. World's largest democracy with a pitiful identity crisis
Rakul Preet Singh: Stunned, moved, speechless after watchin d doc.so much anger in me. I am bad cos I Step out late?830pm?#IndiasDaughter ,such an eye opener. Such horrible inhuman comments coming frm a lawyer. Whichdemocracy r v living in ?wt rights do v talk about!! #time for change!
Prakash Raj: Watched #IndiasDaughter in tears.. We Men of my country should hang our heads in shame ... Shame on those who are banning this documentary
Lavanya: Just watched the Nirbhaya documentary.. Half way through, already filled with anger n frustration.. Especially the layer whose is trying to defence those rapist using our indian Culture..n d rapist! who is trying to teach that culture to us
Pranitha: Watching #IndiasDaughter. Speechless!! More than the rapists, I am appalled at the statements made by their defence lawyers., SICK!!
Taapsee Pannu: India's daughter. I am disgusted. Just disgusted with everything.
Amala Paul: Luks like a rapist too,smone shud dig into his past who knws wat u might find. He s not any less than a rapist #shame. May God gve strength to te women around them!!Defence lawyers f te rapists who committed #brutalrape #IndiasDaughter