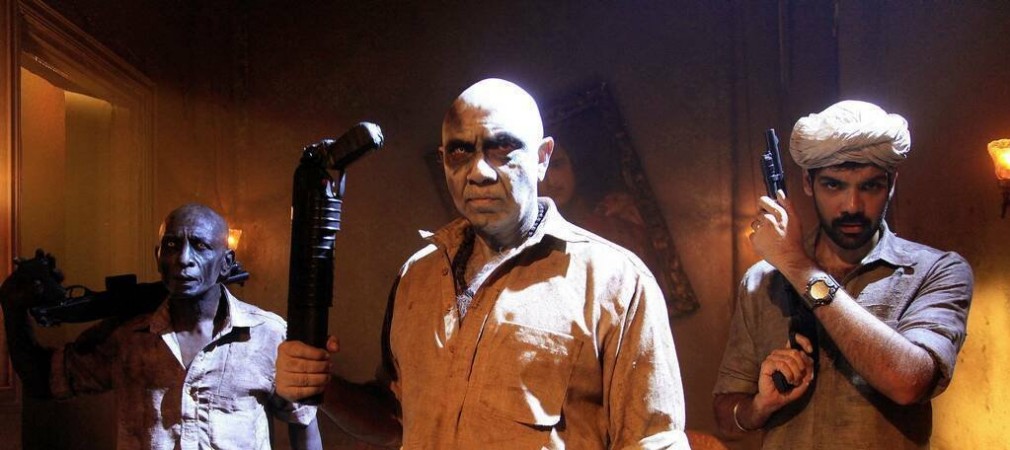 Director Dharani Dharan's Telugu movie "Dora," featuring Sibiraj, Sathyaraj and Bindu Madhavi in the lead roles, has received mixed reviews from the audience.
"Dora" is a horror comedy movie and is the dubbed version of Tamil film "Jackson Durai." Besides direction, Dharani Dharan has also written the story and screenplay for the movie, which has been produced by MS Sharavanan under the banner Sri Green Productions. Siddharth Vipin has composed music, while Yuvraj handled cinematography for the movie.
Set in the pre-Independence era of India, "Dora" revolves around the story of a haunted house in a village. Bullet Satya is a police officer, who is sent on investigation to this village, which is tormented by ghosts of a freedom fighter (Satyaraj) and a British colonel (American actor Zachary). How he investigates and unravels the mystery of the haunted house forms the crux of the story.
Sibiraj, Sathyaraj and Bindu Madhavi have delivered good performances and they are the big assets of "Dora." Karunakaran, Rajendran, Zachary and others have done justice to their roles and their performances are also among its assets. The movie has good production values and some comedy and horror scenes, background score and picturisation are highlights on the technical front, say viewers.
We bring to you some viewers' verdict on the film shared on Twitter. Here is the live update of "Dora" movie review by audience:
Survi ‏@PavanSurvi
#Dora - What a absolute pile of shit. A terrible script, poorly directed with bad acting and awful action. Dharani Dharan
Razhmi ‏@razmihere
#Dora loaded with comic sequences... #Dora keeps u engaged for most parts #Dora screenplay could have been tight
Dora is a poorly executed film. The cross between horror and comedy is improper and this shows up clearly on the big screen. Although a few comic scenes are entertaining, the rest of the film is jumbled up into one big mess and can be ignored this weekend.
Yet another routine Horror comedy, where 'Good Evil' triumphs over 'Bad Evil'. Nothing new in story or screenplay. The only good thing is, few comedy sequences, if not the movie would have been a disaster. Problem is director tried to stuff lots of things within a thin space. Costumes and Ghost make up is pretty good. Satyaraj alone scored in acting and rest of them are immatured.