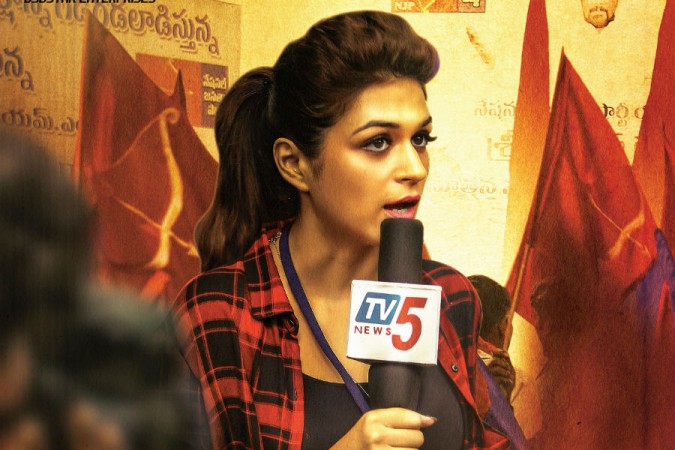 Actress Shraddha Das says that her next movie PSV Garuda Vega 126.18M, which is directed by Praveen Sattaru, is one the movie after Baahubali that cinegoers should not miss watching in a theatre.
Shraddha, who is busy with the promotions, is very excited about the movie. Apparently, the reason for her excitement is that she is a journalism graduate and for the first time, she is playing a reporter on screen.
In an exclusive interview with International Business Times India, Shraddha Das couldn't stop herself from going gaga over PSV Garuda Vega, its production, Praveen Sattaru's creativity, Rajsekhar's persona and of course her role in the film. Here are excerpts from the interview.
What is your role in PSV Garuda Vega?
I am playing a reporter named Malini. Basically, her character is very important in the film for the way she asks right questions, which need to be asked. She digs out a lot of secrets about many people in the film. She is very aggressive, she says the right things and asks the right questions.
How challenging was it to play? How did you prepare for the role?
This kind of a role is easy and difficult. It is easy because I have studied journalism in real life and I have trained for broadcast. So it was easy for me. But when it comes to body language and lines, it was a bit difficult because the lines were basically bookish language.
I have worked with Praveen Sattaru in Revolver Rani. Still, he auditioned me for this film. It is not he doubted my capabilities and skills, but he wanted to see whether I will really be able to say these 'achamaina' (pure) Telugu monologues. I had to say in one-go. He auditions for two monologues of two pages. I sent him two videos from Mumbai on Whatsapp. Then I was selected for the role.
As far as preparation is concerned, the director had sent to me my dialogues one month before I started shooting for the film. I used to practice them every day because I did not have time to do the same on the sets. I called a journalist friend of mine in Hyderabad. She used to record every line and send them to me with correct pause, emphasis and pronunciation. I used to learn them exactly that way and that is how I worked for my role.
Also, I watched certain things like how reporters were doing live during 9/11 attack to understand the sense of urgency on the location.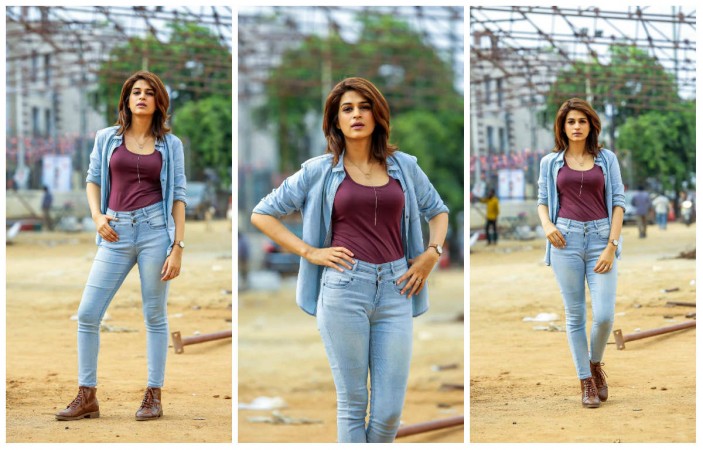 There are two female leads in PSV Garuda Vega. How important is your role in the film and how much screen presence you have when compared to other ?
Pooja Kumar's role is light, funny and her personal life is emphasised in the film, whereas my role is a serious and depicts professional life. However, I am not allowed to reveal anything more.
How was it working with senior actor Dr Rajasekhar and Praveen Sattaru?
I have worked with Praveen before. You can trust him blindly and he will present your character in the best possible way on the screen. That is his speciality. You can see how he is presenting Rajasekhar sir in a classy way after so many years. I have seen the film and it is spectacular.
Praveen is extremely professional and I know him very well. Still, I had to audition for his film. By that, you can understand how dedicated he is towards the script. He won't just cast you just because you have worked with him earlier. He will cast you only if he thinks that you suit the role and will do justice for the character.
I would like to tell about Rajasekhar sir. Though he is a senior actor, he does not intimidate anyone on the sets. You feel very relaxed and chilled out on the sets. You can be completely free and don't need to behave in a particular way around him. I also learned that he suffered a heart attack just before beginning the film. Despite that, he is making a grand comeback. He has done swimming in the film, but in reality, he doesn't know how to swim. He performed every stunt on his own. We had action sequences in Charminar and Narayanaguda, where we were running many kilometres, but he never asked for any support artiste or a dupe, even though it was extremely long and wide shot. That is commendable about him.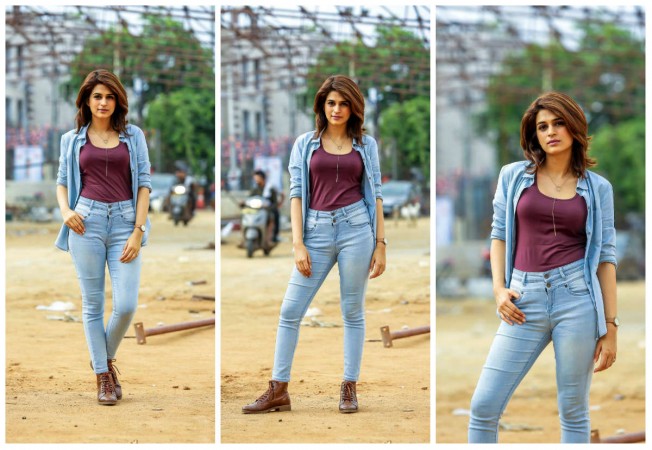 Would you like to share any memorable experience you have on the sets of the film?
I have a very serious role and I focused on my lines. I didn't really have the time for fun. In the Charminar scene, Praveen asked me to learn riding Scooty. It was hilarious as I could not learn it in one day. I learnt it, but I was not good enough to ride in the lanes of Charminar. It was a memorable experience riding around Charminar.
You were said to be upset with your blink and miss appearance in the trailer of PSV Garuda Vega. What would you like to tell about it?
Every line that I say reveal the suspense in the film. That is the reason why they could not put either mine or Adith, whose role is as important as Rajsekhar sir in the film. Even he does not have any lines in the trailer.
What are your upcoming projects?
As of now, I have project Mirchi Malini, which is directed by Sujoy Ghosh of Kahaani fame. It will be released in December this year.
What are your expectations from the film? What would you like to tell your fans?
There are five important elements in the film which is why it should be watched. Firstly, it has grand and spectacular visual. Post Baahubali, this is one film that you should go to the theatre and watch. You will get that kind of cinematic experience. Secondly, it has great story, tight and racy screenplay. Thirdly, it marks the comeback of Rajasekhar sir in a very different role. Fourthly, me, Pooja and Sunny Leone are the attractions. Lastly, the background score is mind-blowing.
And Sunny Leone?
I met her at the pre-release event of PSV Garuda Vega. I had a crush on her for years. By the way, I kissed her cheeks at the end of that function.