EsselWorld, India's largest amusement park in Mumbai on 18 July announced the launch of 'Shot N Drop,' the tallest tower ride in India, and 'Top Spin'. Another ride 'The Lagoon' was also introduced in the Water Kingdom (Asia's largest amusement park) via the Essel Group Newsletter.
Developed by HUSS Park Attractions, 'Shot N Drop' is a 24-seater tower, which offers the thrilling shot and free fall movements of the gondola (cable car). The spectacular ride's effects are controlled by state-of-the-art pneumatic systems and the ride itself is encompassed with mesmerizing lights display and special sound effects to provide a thrilling experience to the riders. The ride is a sure stop-spot for all adrenaline junkies looking for an exhilarating experience.
"Get sky-shot at 4G force to 190 feet. And, then the free fall drop loaded with bungy effects. Uparrrr...Neeche! In short, ab SAB KI FATEGI," EsselWorld puts it.
The installation audit and certification has been approved by German Technical Control Board TUV.
'Top Spin' was the other latest international addition made to EsselWorld, which, according to their website was inspired by the most juvenile ambitions of how it would feel to hope into a washing machine without being chopped down. It was launched recently by actress Jacqueline Fernandez.
On the 14th Anniversary of the Water Kingdom, a new & exciting ride 'The Lagoon', India's largest Aqua play pool was inaugurated by former Miss India contestants Manasavi Mamgai & Neha Hinge. Spread across 30,000 sq.ft, it is a perfect family play port suitable for guests of all age groups. It's 10 different (3 kiddie slides, 4 family slides, 3 adult/thrill slides) elements will definitely get you drenched with fun.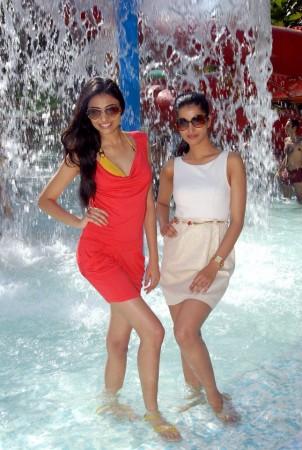 EsselWorld's other latest attractions include the 'Enterprise,' a giant wheel that covers dizzy heights with crazy movements and scary speeds, 'Hoola Hoop,' a roller coaster that covers 340 meters with insane drops and a 360 degree scoop all at a melting speed of 100 kms per hour and 'Thunder,' a pendulum ride that flips 360 degrees.
Commenting on the new ride launch, Shirish Deshpande, Chief Executive Officer, Pan India Paryatan Pvt. Ltd said, "Within a few days of the launch 'Shot N Drop' has become the most sought after attraction in the park, taking thrill to an all new level."
Meanwhile, EsselWorld has an ongoing campaign #MyFirstThrill, where patrons are asked to blog about their various firsts in EsselWorld, including their first visit, first Aqua Dive, first driving lessons at 'Dodgem Cars,' and so on.
Share your first memory of EsselWorld by writing a blog and WIN amazing prizes #MyFirstThrill Participate Now! pic.twitter.com/6jeIiXiJlz

— EsselWorld (@TheEsselWorld) July 7, 2014
The contest has had an overwhelming response from its followers, with many hoping to win the contest and take home some amazing goodies, including Canon 1100D camera, Samsung Galaxy Tab 3 and a Moto E.
@TheEsselWorld Had lotsa fun in reminiscing about my #MyFirstThrill #Esselworld . Read all about it at my blog: http://t.co/n9jeEhHAqF — Satya Singh (@Satya_Gemini) July 21, 2014
EsselWorld – #MyFirstThrill: http://t.co/qDR8ufrQn5 Please Tweet my blog and please @TheEsselWorld

— Rishabh Bhatia (@Rishabhh1234) July 16, 2014
ESSELWORLD-#MyFirstThrill http://t.co/TjhjdLmD3y via @wordpressdotcom — nithin k jose (@nithinkjose3) July 19, 2014