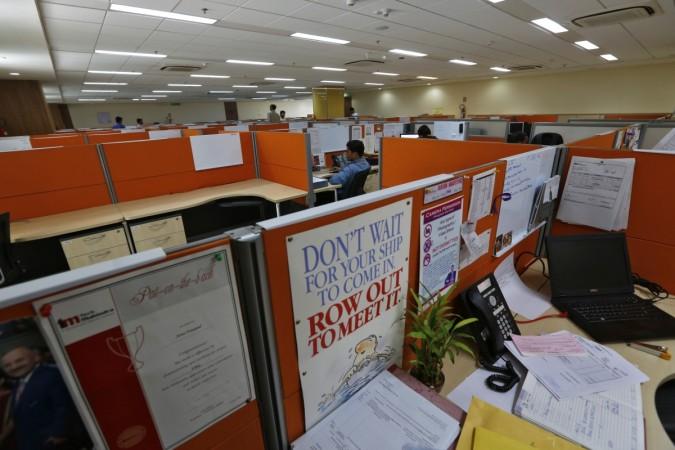 Lack of skilled digital talent could threaten up to 2 lakh jobs per year in the IT sector, aqccording to the latest Economic Survey. The report also suggested the government to address issues related to infrastructure in smaller cities and towns.
"The job cuts in IT sector will be between 1.75 lakh and 2 lakh annually for next three years due to under-preparedness in adapting to newer technologies," the survey quoted executive search firm Head Hunters India as saying, Deccan Herald reported.
It added that the growth in digital technologies like cloud-based services is taking place at a faster rate due to which companies would have to learn those new technologies and undergo reskilling training.
Automation puts 69 per cent jobs in India, 77 per cent jobs in China and 85 per cent jobs in Ethiopia at risk, according to a report released by the World Bank.
However, the survey is not as cynical as an earlier McKinsey report, which had stated that almost half the workforce in IT firms would become "irrelevant" in the next 3-4 years. The report had added that the big challenge ahead for the IT industry would be to reskill 50-60 percent of the workforce as there would be considerable shift in technologies.
The Economic Survey, which has been authored by Chief Economic Adviser Arvind Subramanian, said that some of the obstacles in developing digital skill talent in tier II and III cities included under-developed infrastructure. The survey also called for the easing of restrictions on startups to enable better kill development.
Several firms in India have set up programs to reskill not just their existing employees but also freshers. Nasscom said that IT companies have added about 1.7 lakh jobs in the 2016-17 period. They are expected to hire about 1.5 lakh employees this year.
The top five IT companies hired around 50,000 people in the same period, the survey quoted Nasscom as saying. It had also stated earlier that the world was moving towards automation and digital services and employees will have to "re-skill or perish."
Where and how does an IT professional reskill?

Reskilling IT professionals through online courses seems to be the solution. IT giant Infosys, which is believed to be hiring freshers through campus placements, is helping its employees get acquainted with the industry and its current trends through online courses.
The freshers are asked to pick a paid online course on Udacity, an online education provider, as part of their re-skilling programme. After the completion of the course, they are sent for training to Infosys' Mysore facility.
The top five Indian IT firms — TCS, Infosys, Wipro, HCL Technologies and Tech Mahindra — are known to take up re-skilling exercises on a regular basis.
"The need to retrain the workforce is further amplified with the automation of the old work procesess. Hence, companies need new skills. In addition to different technical skills digital also requires employees to acquire new soft skills. All this is being addressed by investing in training in design thinking and agile development methodologies," Peter Bendor-Samuel, founder and chief executive officer of Everest Group, a global outsourcing advisory, told Business Standard.
"If you are not skilling yourself, you are obsolete. You are running a race that is not there," said Y Shekar, co-promoter, Skillablers Technologies Private Limited.
Online education providers are also specifically designing courses to re-skill IT professionals. For instance, online training company Simplilearn is offering scholarships called "Bounce Back," which lets the IT employees take up online courses and programmes to keep up with the current trends and the latest technology.