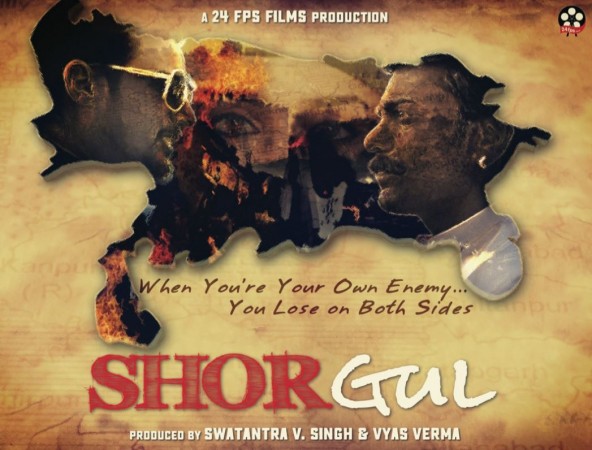 Political drama "Shorgul," starring Jimmy Shergill, Hiten Tejwani, Suha Gezen, Ashutosh Rana, Narendra Jha, Anirudh Dave and Sanjay Suri, has opened to mixed response from critics.
The film, directed by Jitentra Tiwari, talks about corruption and communal violence in Uttar Pradesh, but unfortunately, there is no in-depth take on riots, critics said. Overall, the film has disappointed critics with the storyline, but the actors' performance makes the movie worth a watch.
Read below what critics have said about Jimmy-Ashutosh starrer "Shorgul."
Rohit Vats of Hindustan Times said: "If you aren't familiar with what happened in 2013, or were looking for a new perspective on the incident, Shorgul isn't for you. The movie is a disappointment."
Rahul Desai of Catch News said: "The sorry existence of Shorgul is almost as exploitative, unnecessary, insignificant and irresponsible as Ramgopal Varma's 'The Attacks of 26/11'."
Saibal Chatterjee of NDTV said: "Shorgul is so horridly ham-handed that it merits no rating as a film. But for the statement that it strives to make, no matter how feebly and incoherently, it deserves one star. And that is all it's worth."
Nandini Ramnath of Scroll.in said: "Shorgul has no scope to explore the unending rise of communal feelings among ordinary people, and the confused plotting and never-ending turn of events further muddle an already mixed message."
Rachit Gupta of Filmfare said: "Shorgul tries to tell a tale of merit. But the methods it employs to tell its story are so jaded, you just lose your faith in the film."
Devarsi Ghosh of India Today said: "Shorgul deserves a watch, more so because of its topicality in this putrid climate of communal hatred and intolerance."
Anna MM Vetticad of Firstpost said: "The Muzaffarnagar riots are a blot on contemporary history and the wounds from that blaze are yet to heal. It is almost criminal to use references to this human tragedy to draw audiences into a deafening, unimaginative, ordinary film."