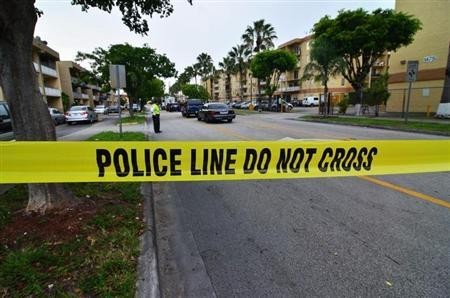 A Malaysian bar bouncer became the latest victim of the Malaysia's continuing shooting menace as seven rounds were shot at him outside a Penang entertainment outlet at 12:50 am on Friday.
Too Pek, 43, was talking with a friend in an open park when the shooting spree happened. Partygoers at Penang Night Club also reportedly heard the gun shots.
Luckily for Pek, only one out of seven shots hit him in his right thigh as he ducked to dodge the rapid shots. He then limped his way to the club nearby seeking help from where he was taken to a nearby hospital. His condition is said to be stable.
Police Chief ACP Gan Kong Meng said the suspect fled the sene on a motorbike after seeing the victim being hit with the bullet. He also revealed seven bullet casings were recovered from the crime scene which had been sent for forensic examinations.
The brazen attack took place a day after a 37-year old man was brutally murdered at a traffic junction after being pumped with 14 shots in his BMW car.
However, officer Gan said unlike the Thursday's victim who had previous conviction records of drug related offences, the bouncer had no such history but he is a part of the local triad - which refers to 'Chinese transnational organised crime groups.'
Another audacious shooting incident was reported on Thursday, where miscreants opned fire at a bungalow in Malaysia's Jalan Utama area after the owner failed to give in to extortion demands. No one was injured in the incident.
Malaysia has witnessed escalating crime rate related to shooting cases of late, claiming 34 lives since April this year.