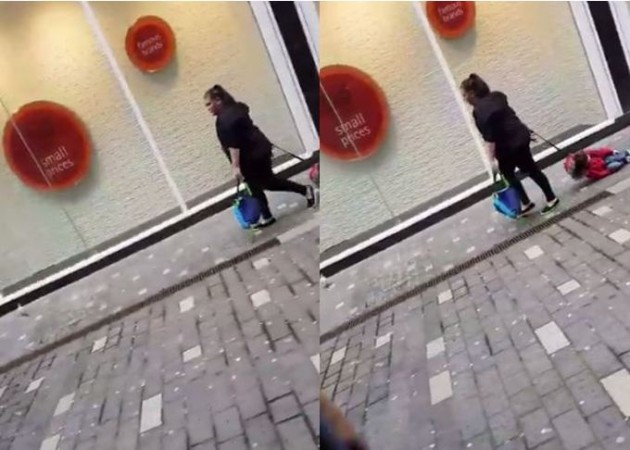 A shocking footage showing a woman pulling a child using the leash of its harness through the streets of Liverpool has gone viral. The woman wearing dark leggings and top is seen holding the kid's bag in her left hand, while with the other hand she is pulling the harness.
Joe Cain, who is from Liverpool, shared the video on Twitter on October 24. Soon after the video was uploaded on social media, people commented saying that the child is a doll, but Cain insisted that the clip is genuine. He also said that the child was fine with the woman dragging him.
"I was walking through town and the kid fell over and then the woman saw the kid had fallen but kept on walking. The kid seemed fine with everything, to be honest, it was people who saw it that seemed worse off. She walked on like that for a while," Cain told Echo.
In the video, the woman can be seen turning her head around to look at the child but then continued walking.
"It sort of caught everyone off guard really, nobody knew what to say or do. I thought she was messing but then she turned around, saw the kid there and kept on going. It was very rough," Cain added.
The video has been shared multiple times on social media. Cain's tweet received over 10,000 likes and more than 5,000 retweets. More than 200 social media users commented on the video calling it "shocking" and "disgusting."
"How can people hit like or retweet such a video? So inhuman," one user said.
"I've just read about this and it's bloody terrible that no one has stopped her and said something this world is wrong," another said.
"That's pretty bad. Did no one stop her or step in??"
Meanwhile, Merseyside Police is investigating the video and they are also reviewing the CCTV footage from the Basnett Street, where the child was dragged.
"Officers are currently reviewing CCTV and carrying out other lines of enquiry to establish the identity of the woman and child. An investigation is ongoing. Anyone with information is asked to call Merseyside Police on 101 quoting the log 1482 of 25th October," Echo quoted a police spokesman as saying.