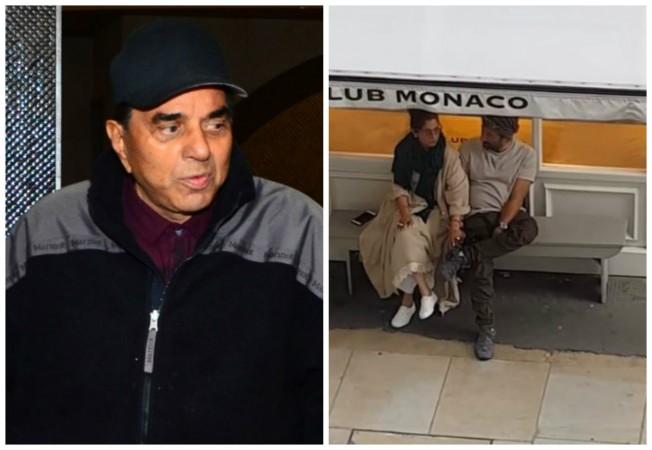 A video of Sunny Deol and Dimple Kapadia has gone viral recently in which the two were seen sitting together and holding hands at a bus station in London. Although it appeared to be little scandalous, Dharmendra surprisingly liked the video.
Although Sunny is married, his affair with Dimple has been an open secret. And now this video has confirmed their relationship yet again, giving some work to the gossip mongers.
However, Sunny's father Dharmendra liking the video is no less surprising.
Self-proclaimed critic Kamaal R Khan had shared the video on Twitter with the caption saying, "Sunny Deol and Dimple Kapadia are enjoying their holidays together. They are looking beautiful couple". Dharmendra, who had joined Twitter recently, liked the video.
Considering the fact that Sunny is still married to Pooja Deol, Dharmendra liking a video that hints at Sunny's extramarital affair is really strange.
While many started talking about the actor and Dimple's apparent relationship, some have trolled Akshay Kumar and Twinkle Khanna in this connection too.
Being Dimple's daughter and a strong believer of feminism, Twinkle was trolled on social media. As she has been vocal about almost all major issues, some of the trolls had instigated her to comment on her mother's apparent affair with a married man.
On the other side, some others made fun of Akshay on social media saying that Sunny is his new father-in-law. Meanwhile, Sunny has been busy shooting for his son Karan Deol's debut movie Pal Pal Dil Ke Paas. Sunny himself is directing the film, which has been produced by their family's own production house.