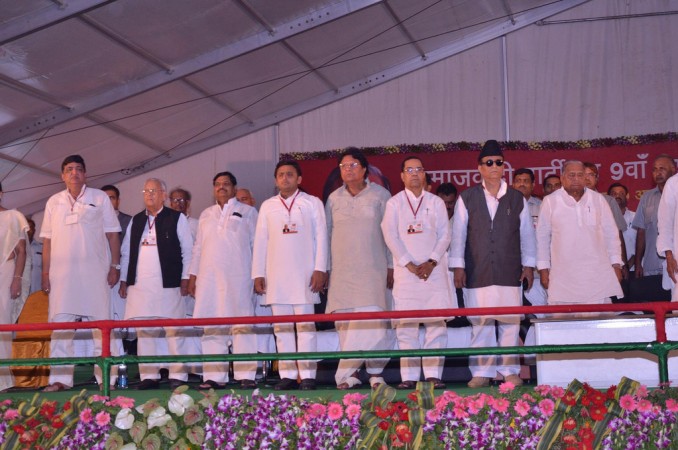 Shivpal Yadav, brother of Samajwadi Party (SP) chief Mulayam Singh Yadav and uncle of Uttar Pradesh Chief Minister Akhilesh Yadav, resigned from the UP Cabinet as well as the leadership of the UP unit of the party late at night on Thursday, Sept.15. While this brought a day, filled with anticipation of what was to come of the father-son's feud over him, to an end, Akhilesh refused to accept his resignation.
Mulayam and Akhilesh have been sparring over a number of issues of late, but the rift between them widened over recent events involving Shivpal. On Monday, Akhilesh removed from his Cabinet two ministers facing corruption charges who are said to be close to Shivpal. He topped it off by transferring the state's chief secretary — another Shivpal loyalist — on Tuesday.
Mulayam responded the same day by replacing Akhilesh with Shivpal as the party's state unit chief. Akhilesh hit back by stripping Shivpal of all the ministerial portfolios in the UP Cabinet, except for the one of waste management. It was from this position that Shivpal resigned on Thursday evening.
The development came after Shivpal, earlier on Thursday, met Akhilesh, but only for 15 minutes. He had also met Mulayam for a few minutes, as the party chief tried to broker peace between his brother and son. However, his efforts went in vain as Shivpal tendered his resignation soon after. His supporters gathered outside his residence late on Thursday night to protest against his decision.
The drama is far from over, though, because Akhilesh soon rejected his resignation. In addition, UP Health Minister Ravidas Mehrotra said that Mulayam had 50 years of political experience, and that he would resolve all issues at the SP parliamentary board meeting that is set to take place on Friday. "Akhilesh ji and Shivpal ji will start working together [after that]," he said.
This infighting within the SP is expected to benefit its political rivals -- like the BJP, the Mayawati-led BJP and even the Congress to some extent -- in the upcoming UP Assembly elections.