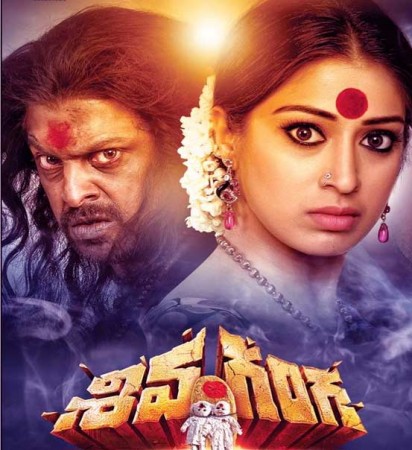 Director VC Vadivudaiyan's Telugu movie "Shiva Ganga," featuring Sriram and Raai Laxmi (also spelt Lakshmi Rai) has received mixed reviews from critics and audience around the world.
"Shiva Ganga" is the dubbed version of the Tamil movie "Sowkarpettai," a horror and comedy flick high on other commercial ingredients. Director Vadivudaiyan has written the story and screenplay for the film, which has been produced by John Max and Jones.
Siva (Sriram) and Ganga (Raai Laxmi) are collegemates, who are in love and plan to get marry. But Godhra Seth (Suman), who has lent money to Siva's father, kills the lovebirds. However, both return as ghosts to take the revenge against Godhra. How they avenge their death forms the crux of the story.
The critics and audience say "Shiva Ganga" is a routine horror movie with some masala elements, but it does not offer anything fresh. Raai Laxmi has done a wonderful job, and her performance is the highlight in the movie. A few romantic scenes, the VFX work, John Peter's songs and background score and S Sreenivasa Reddy's cinematography are other attractions of the film.
The routine story, a few irritating comic scenes and songs are the drawbacks of the movie. We bring you some critics' verdict and audience's response shared on Twitter. Read them in the "Shiva Ganga" movie review roundup:
Nine out of the ten horror films which release these days, are based on some revenge story or the other. Same is the case with this week's release Shiva Ganga as well. The film which has top notch performance by hero Sriram is quite outdated and has no thrilling horror elements at all and can be ignored completely this weekend.
Vidyadhar ❤ ‏@Vidyadhar_R
@iamlakshmirai Got scared for a while.. was keeping my buddy to bring water or to went somewhere... Superb movie #ShivaGanga
Bashadri Kagitala ‏@Bashadri_k
@iamlakshmirai your always steals my heart by the style of acting once again you have demonstrated you acting presence in #sivaganga rocksss
VIGNESH SV ‏@SvVibrantpro
@iamlakshmirai Positive about movie... Lakshmi Rai seen in a completely different avatar in the movie High buzz,hype, for@iamlakshmirai fans @iamlakshmirai Negative point : It is total Lakshmi Rai's show so fans of the Shrikanth might be disappointed as he get only minimum scope .
DR krishna ‏@krishna29570003
@iamlakshmirai humour &horror fiction humour will lead d movie to ahit,apart from that ur acting superb twist&unexpected climax ✌
Hemanth kumar ‏@RAHemanthkumar
@iamlakshmirai u r d one men show in that movie.. u r acting mind blowing superrrrrr
Śañkaŕi Kišhóré ‏@sankish_daly
@iamlakshmirai movie was really fantastic. Differnt role for u than #kanchana #luvelyPei Hatz off u and Keep scared and entertain us
FARMAN PASHA ‏@farman_pasha
@iamlakshmirai The movie has its moments and share of drawbacks.and its a sure hit superb horror movie and mam ur acting is a main highlight