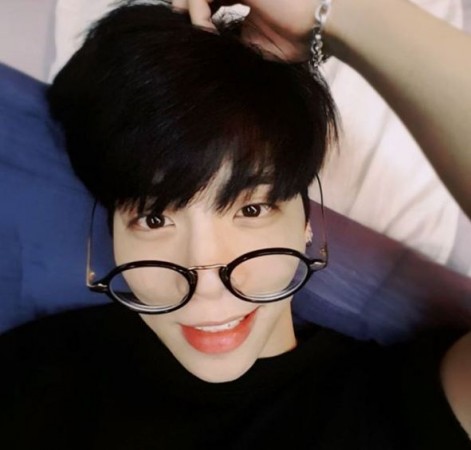 Kim Jong-hyun, the lead singer of the South Korean boy band SHINee, passed away on Monday. Jong-hyun, who was taken to hospital in an unconscious state, had committed suicide, according to Korean media.
The lead singer with thousands of followers was found unconscious at his home in Seoul, South Korea. He was taken to hospital where he was declared dead.
A statement from Gangnam Police said that the singer's sister had called cops to inform that Jong-hyun was threatening to take his life.
"On December 18, 2017 at 4:42PM Jonghyun's older sister reported to Police that her brother was about to commit suicide. We went to his residence in Chungdam and discovered that he had attempted to commit suicide with brown coal briquettes lit inside a frying pan. Emergency responders were with us at the time so we rushed him to the Konkuk University Hospital in a state of cardiac arrest," the statement read, according to Koreaboo.
The publication further reported that Jong-hyun had texted a suicide note to his sister, but it has not been made public.
Police are yet to find the cause of his death, but reports suggest that he died of carbon monoxide poisoning, which might have caused by "brown coal briquettes lit inside a frying pan."
Meanwhile, his heartbroken followers and celebrities took to social media to mourn the death of the singer.
"let me go.
it was hard until now"

this is a part from the message jonghyun left his sister.
Idols have much pressure to go through too.
Mental illnesses are no joke. Anybody can be a victim. Listen to your friends and dont hesitate to get help.
May he rest in peace #SHINee

— nihaℓ (@__MoonBunny__) December 18, 2017
y did this happen???? kpop world lost 1 of their biggest talent today..not even able to writ this.."It's been really hard up until now. Send me off please. Tell everyone I've suffered. This is my last greeting." his last txt to his sis.. #JONGHYUN #SHINee

— Auziiii ? (@AiswariyaG) December 18, 2017
Jonghyun-ah~ I pray for you to not be hurt anymore… May you take comfort in knowing an angel is watching over you. You are in my thoughts and prayers. ?#JongHyun #종현 #SHINee

pic.twitter.com/Y2210wwi5m

— Double Dreams彡 (@Double__dreams) December 18, 2017
Mental health is no joke. Ent. companies should start taking this seriously & the immature fans who feel like they have to control their idols' lives or antis attacking the idols need to stop. Look what happens. K-artists are humans too!#샤이니 #종현 #jonghyun #SHINee

— 호마 나와즈 (@pastelpink____) December 18, 2017
This doesnt just affect SHINEE stans, this affects ALL of us. Please just for now, forget about these stupid fanwars and differences and come together to pray for Jonghyun and his family.

This is someones LIFE.#샤이니 #샤이니종현 #jonghyun #shinee
Crd illiagirl

— 苏秀红 (@suxiuhong) December 18, 2017
[!] Our deepest condolences to #SHINEE #Jonghyun, may he rest in peace. It's really tragic, but pls take some time to pray for him, his family, members, fans and to all peoples who loves him.. pls be strong, we always support you guys

You always shine Kim Jonghyun#RIPJonghyun

— BTOBSTORY (@BTOBSTORYY) December 18, 2017