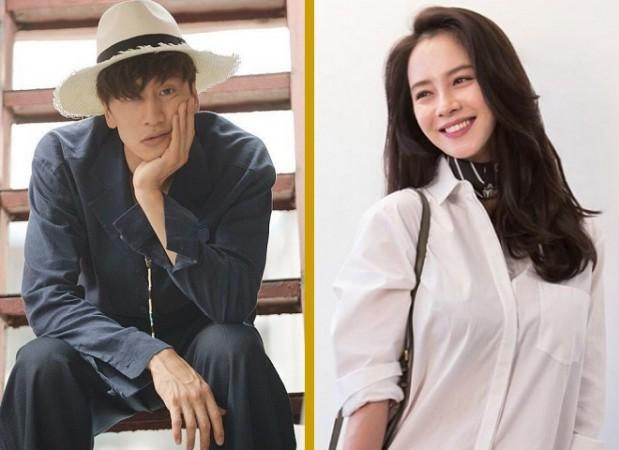 Actor Shin Ha-kyun revealed a rather surprising fact about Lee Kwang-soo's personality that most do not know about. He said in real life, the 'Running Man' actor is the opposite of the personality he shows on television.
As noted by website Soompi, Shin Ha-kyun recently sat down for an interview and talked about Lee Kwang-soo and EXO's D.O. who are his juniors in acting. As the interviewer commented about Lee Kwang-soo's popularity and how he received love from people, wherever he went, Shin Ha-kyun said Kang-soo was actually a very quiet person in real life than his public image suggests.
"His personality is great, too, but he's amazing at acting. He's good at everything. He's not as light-hearted as he is on variety shows. If you see him in real life, you might become flustered. He's serious with deep thoughts, and he's actually quite quiet. He's more of an introverted person. He's just devoted to staying in-character on variety programs. He's a good junior in many ways," Shin Ha-kyun said about Lee Kwang-soo.
The revelations are rather surprising considering Kwang-soo's mischievous and bold personality in South Korean variety show 'Running Man.' Shin Ha-kyun's account of Kwang-soo suggests he is indeed a good actor if he can keep showing a personality in variety shows that's diametrically opposed to him in real life.
Shin Ha-kyun was also asked which juniors in acting he cares about the most. To this, he said, "Right now, it would be my cast mates Lee Kwang-soo and Esom from the movie I'm shooting right now. I'm someone who's loyal to the present. I can't change the past, and the future won't come just yet. Why do you think the present is called 'present' [in English]? It's because it's a gift."
Soompi notes that on May 14, it was revealed that Lee Kwang-soo and Shin Ha-kyun will be co-starring in an upcoming movie called 'My Exceptional Friend' (literal title). It'll be a comedy with two close friends with opposing strengths and weaknesses.
Ha-kyun will play Se Ha, a man who has a brilliant mind and is an excellent speaker who battles societal prejudices. However, he is physically very weak. On the other hand, Kwang-soo will play Dong Goo, an athletically fit but mentally weak man. They have been friends for 20 years and are almost inseparable.
There's also interesting news for Lee Kwang-soo's 'Running Man' co-star and actress Song Ji-jyo. As noted by Soompi, Song Ji-hyo will reportedly be an MC in an upcoming variety show called 'Pajama Friend.' Her co-MCs on the show will be Red Velvet's Joy, and WJSN's Cheng Xiao and model Jang Yoon-ju. The show will be produced by 'Running Man' PD Kim Joo-hyung and PD Yong Suk-in.
Pajama Friends will air on television network Lifetime, sometime in mid-September. It will begin shooting in mid-August.