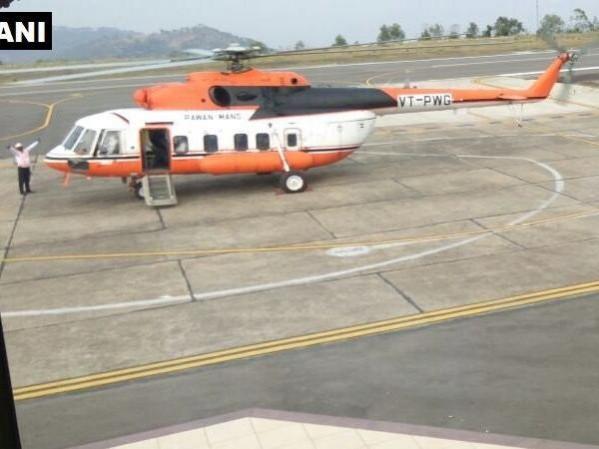 Barely a month after its launch, the heli-taxi fare between Shimla and Chandigarh has gone up by Rs 500, from Rs 2,999 to Rs 3,499, officials said on Sunday.
This is not all. There is a confusion over its landing site in the Himachal state capital.
Officials said the chopper is still landing at the airport at Jubbarhatti, 22 km from Shimla, and not at the Annandale ground, the picturesque flat highland just 3 km from Shimla's Ridge, as announced by the government soon after the launch of its maiden flight on June 4.
"Seeing the poor response of the travellers, the government has announced that the chopper will land at the Annandale ground and not at the airport. That was an encouraging step to woo the tourists as it helps to reduce the travel distance between the landing spot and the city," a travel agent told IANS.
Officials told IANS that for boarding the chopper at Shimla, one has to go to the Jubbarhatti airport, which is an hour-long travel from the state capital. In Chandigarh, the landing site is the International Airport, 18km from the city.
The official admitted that the one-way airfare for the tri-weekly service was increased by Rs 500 from July 1 owing to high operational cost. With the launch of the heli-taxi service on June 4, the travel time between Shimla and Chandigarh was reduced to just 20 minutes against four hours by road.
The state government in association with helicopter service operator Pawan Hans Ltd launched this service.
The state is constructing a helipad at Sanjauli, just on the outskirts of Shimla. The Shimla-Chandigarh flight will be operated from Sanjauli after the new helipad becomes operational in four-five months, say officials.
The Himachal Pradesh Tourism Development Corp has started a shuttle bus service between Shimla and the airport for the heli-taxi passengers. The ticket is Rs 200 per seat.
Known for its apples and picture-perfect tourist spots, Himachal Pradesh attracted 19.6 million tourists last year, 2.9 times of its population. It has 63 operational helipads across the state, as per the state's Economic Survey 2017-18.