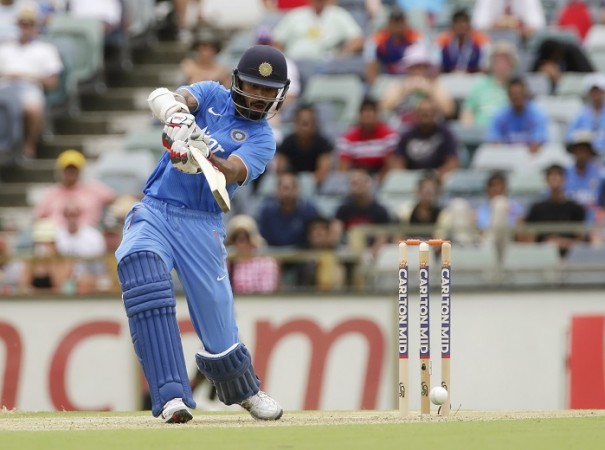 Shikhar Dhawan's form against England and Australia last year were a major concern, but the dashing left hander got into the groove during the 2015 ICC World Cup, after which he has not looked back.
Dhawan, who missed the second and the third Test against Sri Lanka recently due to a hairline fracture, is one of India's main batsmen at the top of the order, irrespective of the format. Dhawan has been in brilliant form for India as he has scored back-to-back hundreds against Bangladesh and Sri Lanka respectively in Test matches.
Dhawan is happy with the consistency level that he has achieved in the past few months.
"What I was looking for in my game was consistency and I believe in the past few months, I have been able to achieve that. I now have a better understanding of my game than what it was in 2013 in my first year in Test cricket," PTI quoted Dhawan on Sunday.
"I am happy to have got back-to-back centuries and was really sad that I had to miss two Test matches due to fracture I sustained during Galle Test."
However, Dhawan believes failures in Australia and England were a huge lesson for him in international cricket, after which he worked on his game and the results are for everyone to see. Dhawan was India's highest scorer in the world cup.
"I believe failure teaches you more than success does as it happened with me on tours of England and Australia. But then before the World Cup, I worked on my game. People can be critical about your game but no one knows better than the player as to what he needs. The turnaround started from the World Cup," he added.
After some great showing of late, Dhawan has a huge task in hand with the upcoming series against South Africa, which is going to be a huge test for India, who host the visitors for 3 T20s, 5 ODIs and 4 Test matches. Dhawan is going to be an integral part in all the formats against the Proteas.
The task of opening the batting with Dale Steyn running in full steam for South Africa is going to be a challenging one for the left hander, who will be eager to carry his consistency in the South Africa series, which can give him further confidence.
However, Dhawan, who is still recuperating from his injury, is expected to play for India A as they hosts Bangladesh A for two 3-day unofficial Test matches, which starts on 22 September.