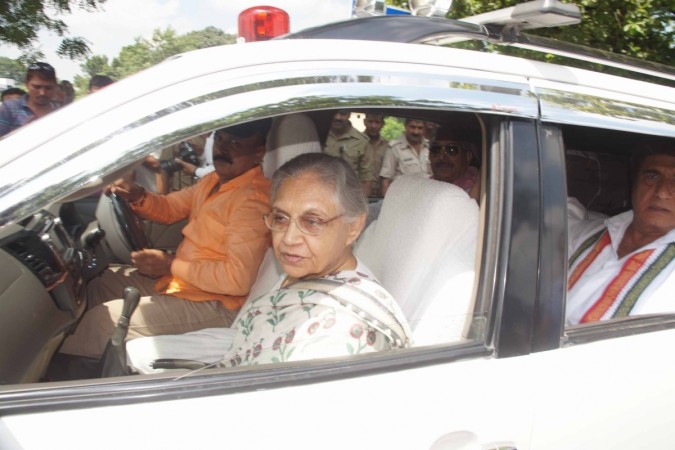 Former Delhi chief minister and currently the Congress' chief ministerial face for Uttar Pradesh Sheila Dikshit on Sunday took a swipe at right-wing outfits and the BJP over cow-protection vigilantes and the death of hundreds of cows in a government shed in Rajasthan. Her statement was seen as an effort to score some points with the saffron party's traditional vote-bank ahead of the 2017 Uttar Pradesh Assembly elections.
Dikshit said in Lucknow on Sunday: "Pooja to BJP wale karte hain 'gau' ki, lekin uski raksha nahi karte [The BJP worships cows, but don't protect them]." She added: "'Gau Raksha' is one of our prime responsibilities. Cow-sheds should be put in place where cows can be kept safe."
Her statements come in the aftermath of more than 500 cows dying in the Hingonia cow shelter of Jaipur in Rajasthan, which operates under the state government. It may be noted that Rajasthan is currently ruled by a BJP government led by Vasundhara Raje.
Dikshit's jibes also assume significance in light of several attacks on people by "gau rakshaks," or cow vigilantes, who belong to right-wing groups and have seemingly taken it upon themselves to punish anyone they percieve as going against their beliefs of how cows should be treated.
This behaviour of theirs has landed them and the BJP in a soup on various occasions in recent times. The most recent of these was the public outcry against Dalits being beaten up for transporting cow carcass in Gujarat, an incident that is said to be one of the few that cost Chief Minister Anandiben Patel her job.
The situation has gone to such an extent that Prime Minister Narendra Modi himself spoke out against it on Saturday. "I'm angered by those who carry out activities in the name of Gau raksha," he said, while speaking at a townhall-like event, adding that the "gau-rakshaks" should help in keeping cows from consuming plastic as that's the major cause of their untimely death.