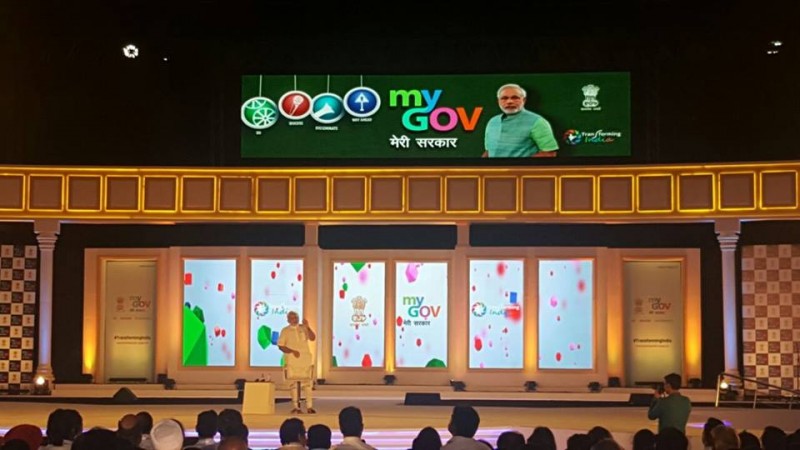 Celebrating the two-year anniversary of MyGov.in, the central government's citizen-engagement platform launched by the NDA government, Prime Minister Narendera Modi said today that a responsible grievance redressal system is pivotal in delivering the promise of good governance in a democracy.
The event, held at the Indira Gandhi Stadium Complex in New Delhi, has been termed a "town hall" meeting as it mimics the western concept where politicians as well as CEOs interact with people directly. The event also saw the launch of a new PMO app to enable mobile phone users to connect with the Prime Minister's website.
While the focus of the meeting remained on key issues such as development and healthcare, which are raised in Modi's weekly Mann Ki Batt radio addresses, the prime minister also spoke on several other, and stressed that India is the fastest growing economy. Speaking to an audience of 2,000 people, Modi said that development goals can only be met with a participative democracy ensuring good governance. The participants were selected based on their engagement on the MyGov platform.
Modi used the occasion to express his displeasure about the self-proclaimed cow vigilantes. "I'm angered by those who carry out activities in the name of Gau raksha," he said, adding that the 'gau-rakshaks' should help in keeping cows from consuming plastic as that's the major cause of their untimely death.
He also said that it is erroneous to question him if something goes wrong in a panchayat, nagar palika or state level. It is fine for politics and TRP, he said while taking a dig at his critics, but affects governance negatively.
"On the question of why do we have smart cities and not smart villages, we've identified 300 places in our Smart Cities Mission. Neighbouring villagers could go to those places and get their quality education, quality health services and digital needs," Modi said while suggesting that the government's schemes aim to cover every citizen of the country.
Expressing the value of preventive healthcare, Modi said, "It won't be just health insurance, but it will be health assurance." He added: "We can concentrate on cleanliness, regulating meals, eating healthy. We are working towards affordable healthcare and vaccination."
Prior to the prime minister's speech, Finance Minister Arun Jaitley lauded the benefits of using of social media during a session on 'Dissemination.' Jaitley noted that various ministries are competing to use social media effectively, adding that government should use all media to engage with citizens.
"Social media is an empowerment tool, empowering every individual, both giving and receiving information…GST, Bankruptcy law was passed with consensus due to public pressure, media has important role to play," Jaitley said.
The members of the audience who attended the first ever "town hall meeting" were selected from a total of 35.2 lakh registered members on the basis of quality suggestions from around 33.9 lakh comments in 589 discussion themes and around 1.82 lakh submissions in 489 tasks.