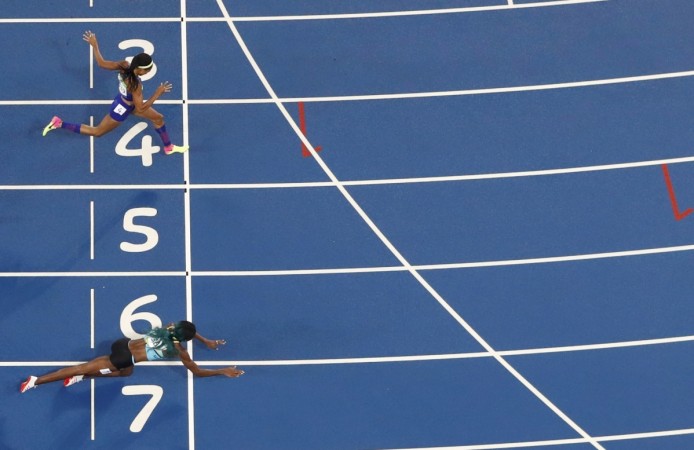 Bahamas sprinter Shaunae Miller clinched gold after a dramatic win in the 400-meter finals at the Rio Olympic Games on Monday night, but her victory soon became a hot topic of discussion on Twitter.
Miller dived across the finishing line to beat USA's Allyson Felix to win gold. She got hurt and has some cuts, bruises and a few burns, but the medal is going to remain with her forever. However, she soon was trolled on Twitter for her victory.
Social media users poked fun at her dive and reacted with humour. Funny posts made an appearance and there were a few who posted funny memes on Twitter. And while Miller's move was completely legal, a few social media users called her a cheater. Though a few even called Miller desperate, others supported her.
Check out the Twitter reaction below:
Coach Anzai: Didn't know diving was allowed in sprinting, smart play and great effort from Shaunae Miller.
katie mckenna: I feel like a majority of the ppl complaining about shaunae Miller have never in their lives been a competitive athlete #SettleDownFolks
Mikko Samson: Shaunae Miller wants to be Michael Phelps so bad
draved: Shoutout to Shaunae Miller for bringing home the Gold Medal!!!!!!!
Bekah: Shaunae Miller couldn't even run to the finish line. She had to dive. WEAK. I guess she knew gold could be found under the sea.
Check out the memes below: