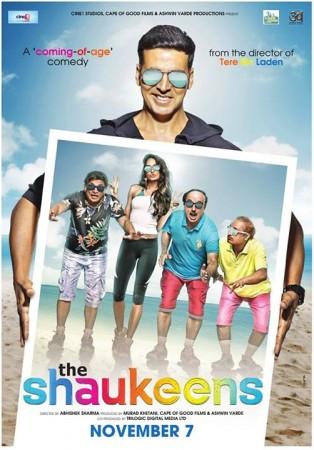 The 1982 release "Shaukeen" is a cult-classic comedy entertainer, written and directed by Basu Chatterjee. Ashok Kumar, Utpal Dutt, AK Hangal, Rati Agnihotri and Mithun Chakraborty played the lead roles in the movie. The film became one of the hit Bollywood films of the year. It also garnered rave reviews from the critics.
The story of "Shaukeen" revolves around three lecherous old men, who plan to go on an excursion. They approach a driver, who suggests them to visit Goa, where his lover works as a singer-cum-dancer at a local club. The oldies meet a lady named Rathi, and despite knowing very well that she is their driver's girlfriend, they make attempts to impress her and their stunts result in some pretty funny viewing.
Now, director Abhishek Sharma has chosen the same subject for his latest venture "The Shaukeens", produced by Ashvin Varde, Murad Khetani and Akshay Kumar. Along with Sai Kabir, Tigmanshu Dhulia has written the script for the modern day adaptation of "Shaukeen". Sticking to the original story, he has made several changes in the screenplay and characterisation to suit the taste of the present generation.
Anupam Kher, Annu Kapoor, Piyush Mishra and Lisa Haydon play the lead roles in "The Shaukeens", while Abhishek Bachchan, Kareena Kapoor, Michelle make special appearances. Akshay Kumar is playing the role originally played by Chakraborty, and is playing as himself for the first time in his acting career. However, the actor says that his character of an alcoholic is not a true reflection of what he is in real life.
Chaudhary Amalendu has handled the camera work for the film, which has partially been shot in Mauritius. The exotic foreign locales are said to be one of the main highlights of the movie.
"The Shaukeens" also boasts of trendy and peppy music. The movie has six beautiful songs and Yo Yo Honey Singh, Arko Mukherjee, Hard Kaur and Vikram Negi have composed the soundtracks. The audio, which was released recently, has impressed the music lovers, who are eagerly awaiting to see the picturisation of songs on the big screen.
Made on a budget of ₹36 crore, "The Shaukeens" is one of the most-hyped and highly-awaited comedy films of 2014. It has created a lot of curiosity among the film goers for several good reasons. The film's promos have soared up the viewers' expectations sky high. The makers say that the extended-special appearance of the Bollywood superstar will be the main highlight of the film.
Having received a U/A certificate from the Censor Board, "The Shaukeens" is scheduled to release in theatres across the globe on 7 November. Will it live up to the standards of the cult-classic film "Shaukeen"? Only time will tell. Stay locked to this space to read "The Shaukeens" movie review.