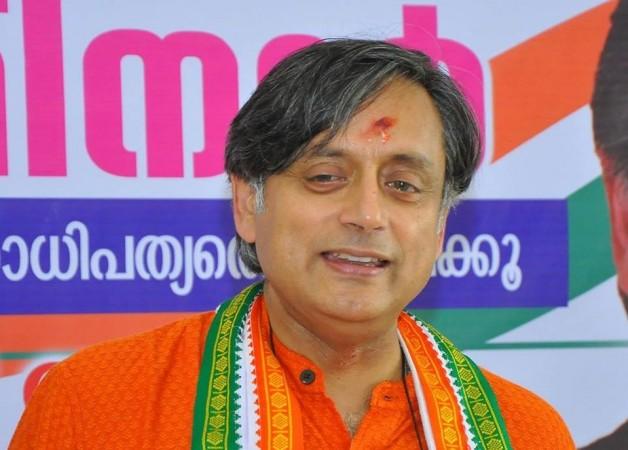 Congress leader Shashi Tharoor on Tuesday slammed the Bharatiya Janata Party (BJP) for the attack on his office in Thiruvananthapuram by the party's youth wing activists over his remark that "Hindu Pakistan" would be created if the ruling party returns to power in 2019.
On Monday, the Yuva Morcha activists, shouting anti-Tharoor slogans, had barged into his office and put up a banner that read "Hindu Pakistan" office. They also smeared black oil on his constituency office. Tharoor, however, was not present in the office when the incident happened.
Speaking on Tuesday at a protest march organised by the Congress-led United Democratic Front (UDF) near the Raj Bhavan against the callous attitude of the Kerala government on some of the burning issues of the state, Tharoor slammed the BJP.
"It's been 24 hours since my office has been attacked and the visuals of those who were all present are also there, but no arrest has been made," Tharoor said on Tuesday, adding the BJP is answering him by unleashing goons.
He also said the party often speaks of Vivekananda, whose ideology was to show tolerance, besides respecting various cultures and religions "Who are they (BJP) to tell me that I should go to Pakistan. I am also a Hindu but I don't follow the Hinduism of the BJP...They follow Hinduism of Taliban model," said Tharoor.
The Lok Sabha MP from Thiruvananthapuram drew the heat after speaking at an event "Threats faced by Indian Democracy and Secularism" last week. He had said "Hindu Pakistan" would be created if the BJP makes a comeback at the Centre after 2019 elections.
"The great danger is that if they (BJP) are able to make a repeat of their current strength in the Lok Sabha, then frankly, our democratic constitution as we understand will not survive because they will have all the three elements they need to tear up the Constitution and write a new one.
"That will be a new one which will enshrine the principle of Hindu Rashtra, will remove equality for minorities, that will create a Hindu Pakistan," he had said.