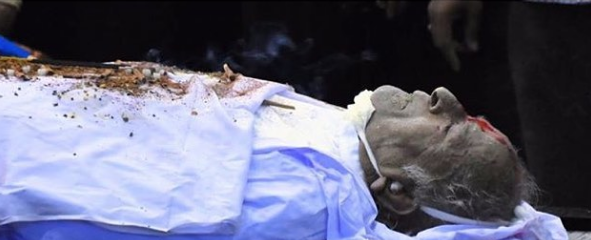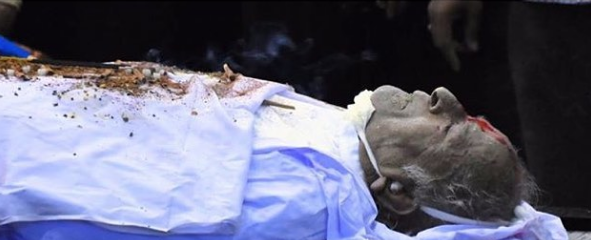 Shashi Kapoor's funeral has come to an end. It's a sad day for the Indian film industry as Bollywood's incredibly handsome man breathed his last on December 4 at a Mumbai hospital. He was 79.
ALSO READ: Shashi Kapoor Funeral Live Updates: The actor honoured with a three gun salute; ShahRukh, Ranbir, Saif arrive for last rites [PHOTOS]
Shashi Kapoor wrapped in tricolour for last rites, gets three-gun salute
His last rites took place at Santacruz Hindu Crematorium. Bollywood celebrities like Amitabh Bachchan, Saif Ali Khan, Rishi Kapoor, Randhir Kapoor, Ranbir Kapoor, Sanjay Dutt and Anil Kapoor were present.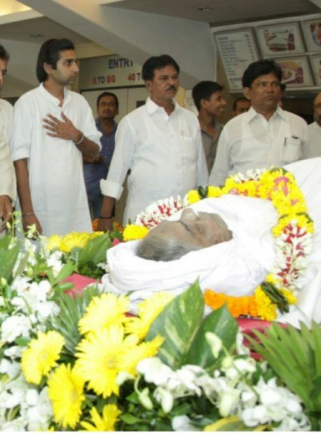 About a dozen policemen draped the actor's body in tricolour, which was later removed for the rituals. This was followed by a minute's silence. The veteran actor was given a state funeral amid massive security. He was honoured with a three-gun salute in the presence of family and film fraternity members.
This is the Kapoors' last Christmas photo with Shashi Kapoor. Taken last year, it shows Shashi Kapoor surrounded by Rishi, Randhir and Rajeev, who are there with members of the younger generations: Armaan and Adaar Jain, Karisma and Ranbir. Saif and Kareena are missing because Taimur had just been born.
Born in 1938, Shashi Kapoor — brother of Raj Kapoor and Shammi Kapoor— carried forward the legacy of his father, the legendary Prithviraj Kapoor. His wife died of cancer in 1984.
The actor is survived by his three children: Karan, Kunal and Sanjana Kapoor.
Related
Shashi Kapoor Funeral Live Updates: The actor honoured with a three gun salute; ShahRukh, Ranbir, Saif arrive for last rites [PHOTOS]
Shashi Kapoor death: Karan Patel, Nakuul Mehta and other TV celebs mourn the loss of a legend
Amitabh Bachchan's blog dedicated to 'incredibly handsome man' Shashi Kapoor will bring tears in your eyes
Shashi Kapoor [1938-2017]: Demise of the Big Four of Kapoor clan marks the end of an era
RIP Shashi Kapoor: B-Town Celebs and other popular figures mourn the loss of a legend [PHOTOS]
Shashi Kapoor dies at 79: Remembering the legend through his immortal dialogues