Addressing the 4th Sharjah FDI forum, Mr.Subhash Desai, Minister Industries & Mining, Government of Maharashtra, India, highlighted the growing investment opportunities in the state of Maharashtra. He led discussions on the nation's commercial capital, stating that the value of FDI inflows into the state reached US$100 billion.
During Desai's presentation, under the presence of HE Marwan bin Jassim Al Sarkal, Executive Chairman of the Sharjah Investment and Development Authority (Shurooq), he stated the Indian economy is growing steadily with gross domestic product (GDP) ranging from 70 to 80 percent.
He said: "Investors from around the world know that their money going to India is safe, especially in Maharashtra, the country's largest industrial zone. Over the past years, we have developed a promising business environment by adopting a package of policies that will attract global economies to invest in the state, and we have formulated special policies in sectors like logistics, food industries and others."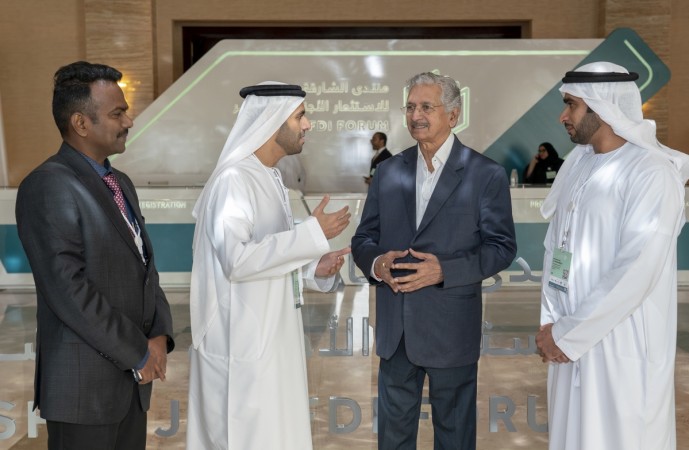 Desai also introduced the audience to the 700 km corridor linking a major port in Mumbai and the surrounding areas, a road network connecting large cities and suburbs, the construction of 10 metro and airport lines, and the development of ten smart cities.
He noted: "All these ambitious projects together will change the face of the state and contribute to the provision of a variety of economic products to foreign investors."
Concluding the session, HE Marwan bin Jassim Al Sarkal granted HE Subhash Desai a trophy of recognition for his participation and for the participation of the Maharashtra state at the fourth edition of the Sharjah FDI Forum. Subash Desai also handed over a memoir to Mr Muhammed Al Musharrakh, CEO of Invest in Sharjah. The shared the hope of possible collaboration in future events.
India - UAE trade deals
Sharjah is one of the key drivers for Indian outbound investment into the Gulf Region, valued at more than $137 billion and a primary non-oil trade partner. Both Sharjah and India have shown significant growth, with the Indian economy expected to grow by 7.5% and UAE's economy at an accelerated 3.9% rate in 2018. There are more than 24,000 Indian companies registered in Sharjah's free zones and mainland, operating across various sectors such as a healthcare, trade, education and retail.
The Sharjah FDI Forum, which was first launched in 2015 under the patronage of His Highness Sheikh Dr. Sultan bin Muhammad Al Qasimi, is organised by Sharjah FDI Office (Invest in Sharjah) with the support of the Ministry of Economy, UAE.
The fourth edition seeks to boost the emirate's endeavours to attract more foreign investments, promote opportunities in main sectors, and strengthen the UAE's position as a top investment destination in the region and the entire world.