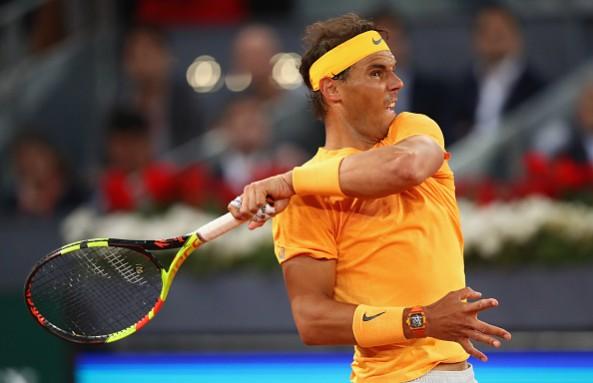 Maria Sharapova has opened up on her incredible experience of practising with Rafael Nadal before the Italian Open, an event which takes an entry off her bucket list. The duo was practising on adjacent courts when the Russian went ahead and popped the question.
The two former world-number-ones hit balls together on the red clay at Foro Italico in Rome, where they are both multiple winners. Nadal had recently lost his number one status to Roger Federer after losing to Dominic Thiem in the quarter-finals of the Madrid Open. However, the Spaniard can reclaim his place should he win in Rome, a place where he failed last year.
The pair shared the courts for just a few moments and traded blistering groundstrokes from the baseline. Though it was two-time French Open champion Sharapova who got the better of the 10-time King of Clay when his final shot went wide. However, the moment would have come to pass if she had not mustered the courage to ask Nadal in the first place.
"I saw he was practicing on the court right before me, and I said to my team, 'Wouldn't it be amazing if I just came up to Rafa and said, 'Would you hit a couple balls with me?'," Sharapova told the press, as quoted by WTA Tennis.
"And they're like, 'Yeah, what's wrong with that?' And I was like, 'A lot of things. There's a lot of things wrong with just coming up to Rafa!' They're like, no, you should. I was like, really? You think I should? And so I did.
"He probably thought I was really weird. I think he still thinks I'm really weird.
"I was like -- Okay. Let's not get crazy. Actually, that's what they said, 'It's not like you're asking him to go on a date. You're just asking him to hit a couple of balls with you!'
"Listen, you gotta hit a couple balls with Rafa on clay, you know. It's like a check on the bucket list, definitely. I was so nervous. I was tight, really tight. I never thought that was on the bucket list until like 15 minutes before, and I was like, that would be pretty cool to check off."