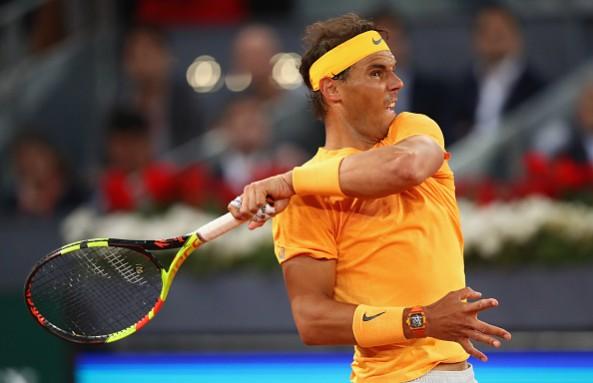 Rafael Nadal has revealed that he expects his match against Dominic Thiem to be a tough contest, where he has to be on the top of his game to progress into the semi-finals. The two have a solid history and the fifth seed Austrian is the last one to have taken a set from him in the Rome quarter-finals in 2017.
Since them the Spaniard has not dropped a single set, which led him to beat John McEnroe's 34-year record for most consecutive sets won on any one surface with his straight-sets dismissal of Diego Schwartzman taking his tally to 50 on Thursday, 10 May.The duo have met eight times thus far, all on clay and Nadal leadds the tally 6-2.
Nadal is a five-time winner already at the Madrid Open and overcame No 7 ranked Thiem in the final last year. The Spaniard needs to win the event in Madrid so as to keep his number one ranking, otherwise see his chief adversary Roger Federer trump him in the table.
The Swissman is currently taking a break after dropping out of his appearance in the Miami Open and will be back for Wimbledon to defend his title. Nadal has not faced Federer in this tour, with the 36-year-old not participating in the clay swing of the year, keeping himself fresh for the hard court events scheduled later in the year.
Meanwhile, Thiem has struggled to rediscover his form and confidence on his favoured clay as he did last season since returning from a foot fracture suffered in March. He has had to fight very hard in Madrid thus far, coming back from a set down both times to narrowly edge his way past Federico Delbonis and Borna Coric
However, Nadal is under no illusions that this will be an easy game as he has faced in the past but hopes to get himself over the line this time around given that he is playing really well.
"Very tough match," Nadal said, as quoted by the Express. "Especially here on this surface and even more on altitude, his bounces and top-spin are very high and very difficult to control so I need to be ready.
"It will be a very tough match to play but it is a very good opportunity to play against one of the best players of the world. I just hope to be ready. I think I'm playing well enough to be ready and I'm looking forward to it."