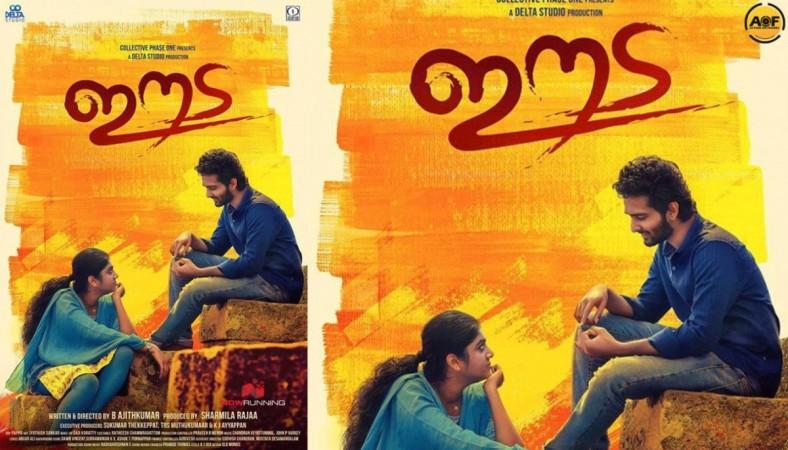 Shane Nigam and Nimisha Sajayan's romantic flick Eeda hit screens amidst huge expectations on the pairing of two of the most talented youngsters in Mollywood. The movie is written and directed by National Award-winning editor B Ajithkumar and co-produced by Rajiv Ravi's Collective Phase One.
The first look posters and trailers of the movie were trending on social media platforms due to the stunning on-screen chemistry of the lead pair and the realistic depiction of scenes. The ultra-realist portrayal of love and violence was hailed by viewers.
Eeda follows the romantic journey of a young couple in a time of life-threatening political unrest in rural Kerala.
The movie unfolds in the backdrop of a highly inflammable political backdrop of Kannur district, Kerala. Kannur, a place known for its sensitive political climate and reports of frequent political murders, plays a crucial role in the movie.
Even the title, 'Eeda' is derived from the colloquial usage means 'Evide' which stands for the English word 'here'.
Also Read: Love in the time of unrest! Second teaser of Shane Nigam's Eeda is here
Shane Nigam plays Anand, an MBA graduate who works in an insurance company and Nimisha Sajayan plays Aishwarya, a student from Mysuru. The plot revolves around how the couple meets, falls in love and the consequences of their romantic endeavour.
Reports suggest that the movie is inspired by Shakespearean tragedy Romeo and Juliet. The two previously released trailers of the movie also hinted at the inevitable tragic end of the couple's romance.
The movie has also generated curiosity among moviegoers as it brings together some of the flag-bearers of the new wave of Malayalam cinema like Shane Nigam, Nimisha Sajayan, B Ajithkumar, Rajiv Ravi, cinematographer Pappu, and composer John P Varkey.
Eeda is the directorial debut of renowned editor B Ajithkumar, who bagged the National Award for Best Editing in 2007, for Naalu Pennungal. He is a regular collaborator or Rajiv Ravi and edited iconic movies like Annayum Rasoolum, Njan Steve Lopez and Kammatipaadam.
Eeda continues Collective Phase's trend of fusing political and personal stories.
The movie is produced by Sharmila Raja under the banner Delta Studio in association with Rajiv Ravi's Collective Phase One and distributed by Laljose's LJ Films.
Eeda also has Sujith Sankar, Alancier Ley Lopez, Manikandan Achari, Surabhi Lakshmi, P. Balachandran, Rajesh Sharma, Sudhi Koppa, Babu Annoor, Shelly Kishore, and Sunitha play important roles.
Here are the live updates:
#Eeda
Impressive ?
Shane & Nimisha performance ?
It can't be made so realistic than this kudos to the team.
Music was OK.
Length & Pace being the only negative thing to spot.
Liked it very well.
It's not an entertainer do regard this if you wanna watch.
Rating : 3.25/5

— Aswin (@aswin9048894742) January 5, 2018
#Eeda is a pretty good watch. Romeo and Juliet in 'The Killing Fields of Kerala'... 3.5/5

— Tom Babu (@Tom_Babu) January 5, 2018
Romeo & Juliet in Kannur. He is from KJP family and she from KPM(wink, wink!). And as the Bard said, it is 'plague on both houses.' #EEDA is a daring movie on an issue about we're in denial. Star-crossed lovers, Shane Nigam &Nimisha lingering. Great start for 2018 movie-watching.

— N.S. Madhavan (@NSMlive) January 5, 2018
As #EedaPreview got over, the reactions I'm hearing range from sharp&brilliant depiction of Kannur's blood-thirsty political violence to riveting movie-making. Along with #Kammattipadam, this is the best political movie of our times, said one. #Eeda

— Nidheesh M K (@mknid) January 4, 2018