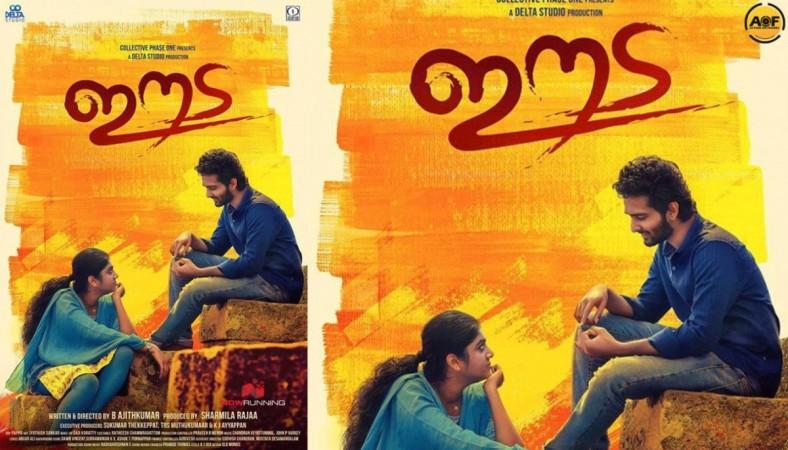 The second trailer of Shane Nigam's romantic flick Eeda has hit social media platforms. The 1-minute and 1-second trailer sheds more light on the romantic journey of a young couple in a time of life-threatening political unrest in rural Kerala.
The trailer gives a taste of the turbulent situation that the couple is exposed to and their struggle for survival.
Eeda, which unfolds in the highly inflammable political backdrop of Kannur district, Kerala, tells the turbulent love story of the couple played by Shane Nigam and Nimisha Sajayan of Thondimuthalum Driksakshiyum.
Earlier, actor Nivin Pauly had shared the trailer on his Facebook wall calling it an interesting love story with two of the most promising talents.
Kannur, a place known for its sensitive political climate and reports of frequent political murders, plays a major part in the movie.
Even the title of the movie, 'Eeda' is derived from the colloquial usage means 'Evide' which stands for the English word 'here'.
Also Read: Prithviraj and Parvathy team up again for Roshni Dinaker's My Story; will the movie repeat Ennu Ninte Moideen magic?
The trailer, along with the key characters and their shades, also hints at an inevitable, tragic end of the couple's love story.
Eeda is already trending on the social media platforms as it brings together the best names of the Mollywood new wave. The first trailer of the movie was well received by the social media as well.
Shane Nigam sports the hero's cap after the movie Kismath and Nimisha Sajayan is all set to raise the bar after Thondimuthalum Driksakshiyum. And, they are stealing the hearts of the social media with their stunning onscreen chemistry.
Shane Nigam plays Anand, an MBA graduate who works in an insurance company and Nimisha Sajayan plays Aishwarya, a student from Mysuru. The plot revolves around how the couple meets, falls in love and the consequences of their affair.
Also Read: Top 5 Malayalam movies of 2017 and the runners-up: A round-up
Eeda is the directorial debut of National Award-winning editor B Ajithkumar. The movie is produced by Sharmila Raja under the banner Delta Studio in association with Rajiv Ravi's Collective Phase One.
The movie also has Sujith Sankar, Alancier Ley Lopez, Manikandan Achari, Surabhi Lakshmi, P. Balachandran, Rajesh Sharma, Sudhi Koppa, Babu Annoor, Shelly Kishore, and Sunitha play important roles.
The Romeo and Juliet-inspired romantic flick will hit the theaters on January 5.