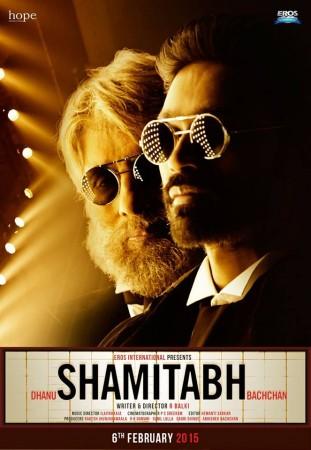 IBTimes India Rating: 3.5
Once in every 6 months comes a movie which shakes off ideas Bollywood has conditioned the Indian audience's mind with. R Balki's "Shamitabh" does just that.
A deaf and mute village lad, Daanish (Dhanush), reaches Mumbai to fullfill his Bollywood dreams, instead finds himself thrown out of every studio he gatecrashes. Grizzly alcoholic Amitabh Sinha (Amitabh Bachchan) is the cemetery resident who addresses himself as 'Jahapanah', and is someone who travelled to the city with a desire to make it big in the industry. Which, obviously didn't happen.
Enter Akshara (Akshara Haasan), a feisty, young assistant director who resorts to doctors for some medical assistance. After some science, Daanish is able to speak in Sinha's voice. The rich, baritone did sound a bit eerie coming from the lanky actor, but one gets used to as the story builds.
While Daanish becomes superstar Shamitabh overnight, a pokey journalist becomes privy to the big secret the two have been hiding. The climax, a bit uncalled for, kind of slowed down the momentum.
What makes the duo vulnerable is their frequent ego clashes, in which none are ready to submit. While Sinha believes it's his voice that has given Shamitabh the fame he is enjoying, the latter stresses on how it's his charm that makes him what he is.
Big B is at his best mouthing funny one-liners with effortless ease, meanwhile Dhanush overwhelms with his ability to express sans dialogues. Akshara's debut will surely achieve prominence as she appeared confident and was never cornered amid the bigwigs.
Director Balki disappoints a bit as he gleefully stretches the monologues and the tiffs between the lead actors a bit too much. However, his treatment of Bollywood stereotypes in the "Piddly" song was subtle and hilarious at the same time.
Ilaiyaraaja's compositions suits the mood but then again it only caters to a certain section of movie-goers as it never gives in to the temptation of incorporating catchy beats and nonsensical lyrics.
In a nutshell, "Shamitabh" is a well-crafted (occasionally banal) fare, which transcends limits set by Bollywood.