Hasin Jahan received Rs 1 lakh from Mohammed Shami, reveals the India pacer's bank statement.
The 28-year-old cricketer and his wife have been making headlines for all the wrong reasons for a fortnight. It was Jahan who first accused her husband of assaulting her and having an extramarital affair.
The Kolkata police have registered a First Information Report (FIR) against the bowler and four others based on Jahan's complaint. Jahan had earlier claimed that Shami never gave her the status of a wife. She also accused the fast bowler of giving money just enough to run the house.
"Till today, you (Shami) neither gave me the status nor rights of a wife. Except for money to run the house, I have no rights on anything. What he does, what his income is, he hides everything from me," Jahan was quoted as saying by India Today.
Umesh Kumar, CEO of Samachar Plus, has now shared a screenshot which is believed to be Shami's Axis Bank statement. In that, it shows the Delhi Daredevils bowler gave Jahan Rs 1 lakh March 20. The money was deposited in her bank account via cheque (number 303718) about two days ago.
#MohammedShami ने हसीन जहां को 1-1 लाख के दो चेक भिजवाए थे जिनमे से 1 चेक (no:- 303718) हसीन के एकाउंट में क्रेडिट हो गया ?दूसरा स्टॉप करवा दिया कि 1 लाख महीना बहुत होगा।
क्यों #HasinJahan ने इस चेक के बारे में मीडिया को कुछ नहीं बताया,क्यों झूठ बोला की मेरे खर्चे बन्द कर दिए? pic.twitter.com/7hP1wP0g7a

— Umesh Kumar (@Umeshnni) March 21, 2018
Jahan's earlier claims that Shami is not giving her enough money does not hold good if one has to go by the Indian cricketer's Axis Bank statement. The money transferred also backs the comments made by the player's relatives, suggesting the right-arm bowler is innocent.
Earlier, Shami's 65-year-old relative Asma Jahan stressed that he and his family treated Jahan like a princess.
"How could this be? Just a month ago they visited and looked happy. Hasin was treated like a princess by the entire village in the four years of their marriage," Asma said.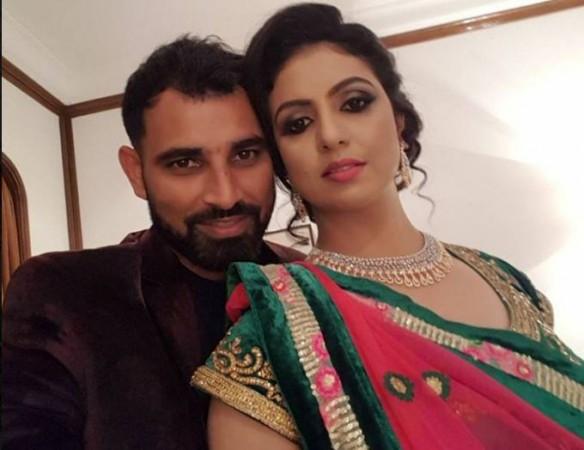 On March 20, Shami's uncle Khurshid Ahmed slammed Jahan after revealing the bowler's wife "only wished for money" and she shopped for lakhs every month.
"She only wished for money, shopped for lakhs every month. We told her we want to sort it out with her and her lawyer but she wanted properties to be purchased on her name immediately. She might have even got rid of Shami, you never know," Ahmed told ANI.